Bravo Indore!
feel free to mail us info@stammer.in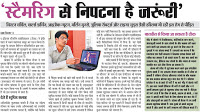 Related Articles
Sharathchandra

, , Uncategorized, 7

---

Ceiling.Happy.Sad.Badminton.Seven.Meeting.SHG.Sunday.Travel.Lunch.Play.Masti.Sleep.Ten. Well , to solve your doubts , this isnt a class 4 child writing its handwriting homework but...
Wednesday September 18th 2019

"What sunshine is to flowers, smiles are to humanity. These are but trifles, to be sure; but scattered along life's pathway, the good they do is inconceivable." ~ Joseph Addison Joseph Addison (May 1, 1672 – June 17, 1719) An English essayist, poet, … more
Online Conference
Whatsapp Groups
9823211467 (Harish), 9930693364 (Dhruv)
Interview? Presentation?
All time Popular
Categories
Archives