Here's my review of the Malayalam movie "Su Su Sudhi Vathmeekam", which is based on stammering.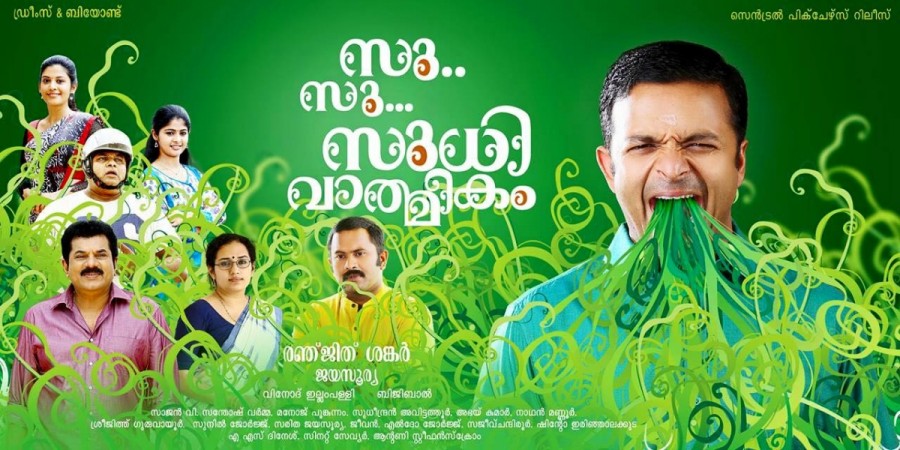 Indian Cinema has traditionally seen stammerers (PWS) as
comic characters. Lately, there were protagonists who stammered… But a
Malayalam film – Su Su Sudhi Vathmeekam comes as a fresh air, which revolves
around a person who stammers and is probably the first Indian film that is primarily
about stammering.
The film is a narration by the central character- Sudhi
Vathmeekam (played by Jayasuriya… awesome!), somewhat in his early forties, who
tells his life story to a Malayalam Super Star actor "Mukesh"- during a journey
that just happens with co-incidences, best understood by watching the film.
The story starts from Sudhi's childhood, in his school,
where he is having difficulty speaking out his name in class, is isolated by
his fellow classmates and made fun of. Sudhi's father tries to cheer him up,
but then- it doesn't stop him from buying a "cauliflower" instead of an "egg"
because it's easy to say!
As the story unfolds, it beautifully shows those horrifying
experiences we stammerers have gone through- buying a ticket in the bus, not
picking up the receiver of the ringing phone, trying various speaking
techniques and stammering severely when talking to people of high authority… In
between we are also introduced to a doctor who helps Sudhi, with some Chinese
therapy called Shiatsu treatment.
Like most of the stammerers, marriage is a big worry for
Sudhi. Life takes a new turn when Sudhi meets "Sheela", a prospective match his
parents have seen for him. Sudhi informs Sheela about his stammering right in
the first meeting. His happiness knows no bounds when he realizes that Sheela
and her family have consented for the marriage. And then we see our Sudhi in
love… dreaming, smiling alone and humming tunes… Life is simply beautiful when
he is in love.
The engagement ceremony brings a twist. Sudhi's nervousness leads to
severe stammering, and Sheela begins to worry. She worries even more when Sudhi
just points to the menu while ordering in a restaurant. It's during this that
Sheela takes him to a Speech Therapist (Kalyani). Sudhi is disappointed –
because his fiancée wants him to see a Speech Therapist, and secondly because
the therapist says that there is no cure for stammering. Sudhi is soon
shattered when his fiancée tells him that she doesn't want to go ahead with the
marriage.
Sudhi develops hatred towards the speech therapist. How
Kalyani, the speech therapist comes back in Sudhi's life, how she tries to help
a rebellious Sudhi makes the second half of the movie. Will Kalyani be able to
help Sudhi in his stammering recovery? How does he deal with the difficulties
in life after a broken marriage and a speech impairment which he realizes is
permanent? Will it break him down? How will he come out of this? Will he ever
fall in love again? What happens to our Sudhi… a representation of a PWS like
all of us? All these questions are best answered by watching the film.
The movie has various pros from a stammerer's point of view:
It comes with a message that stammering is okay… and not
something that you have to get rid of.
It educates the non-stammers too, that stammering is neurological
disorder, and that it's the stuttering mindset that needs treatment.
The character of the speech therapist: If speech therapists
in India were like Kalyani, I would have started believing in speech therapy again 🙂
Finally, it gives a message that is relevant for everyone-
We shouldn't be dreaming of becoming Sachin Tendulkar or Amir Khan or Hrithik
Roshan… we should dream to be ourselves.
A big thank you to Ranjith Sankar, the Director of this
movie, and his entire crew for giving us this beautiful movie. If you are a
stammerer, it's a must watch. If you aren't… it's a must must watch!