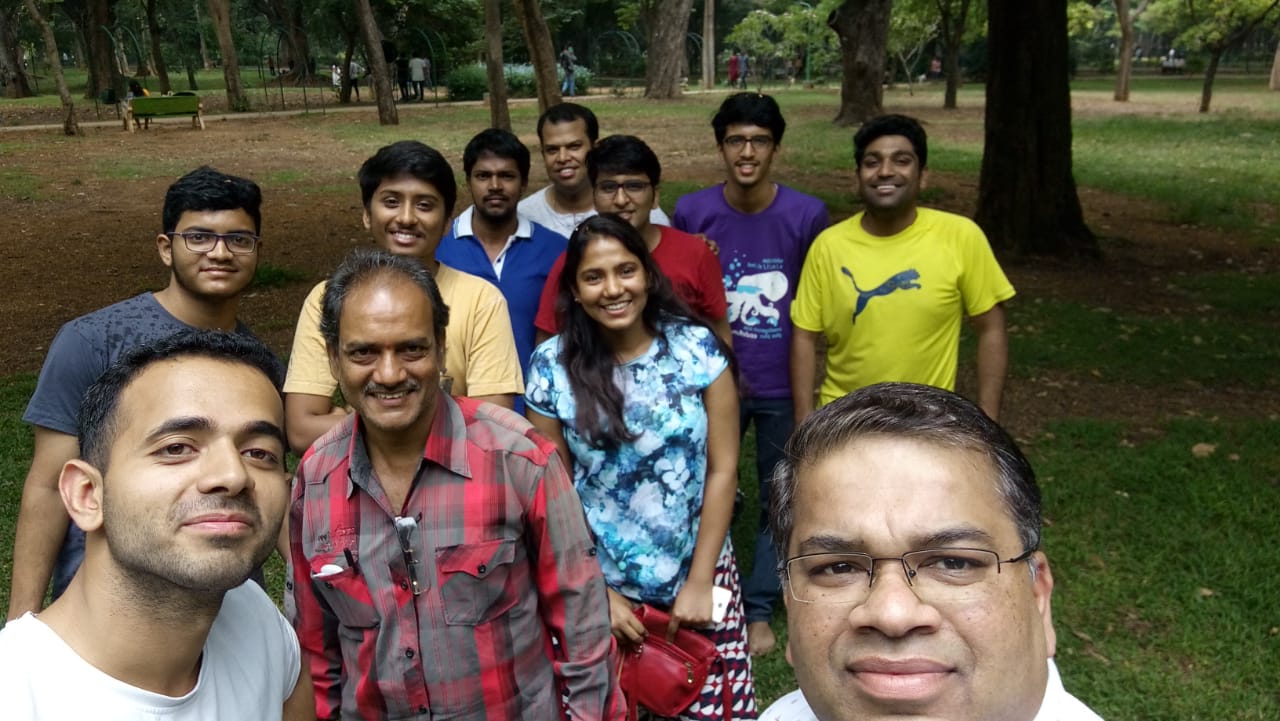 Venue: Cubbon Park, near central library.
Time: 10 AM to 1 PM.
It was a Nice Sunny morning, yet with a balanced good weather… Happened to be sunday🌞. Time clocked 10:00 AM, Time to attend SHG for all the PWS in so called "Namma Bengaluru" city.
One by one everyone started to come from different parts of the city to gather at cubbon park.
And it so happened that both the small and big huts we used to sit were occupied by some bunch of creative people.
And this thing made us to sit close to the nature.
We 12 members made a circle on the grass and started to begin the SHG meeting by introducing ourselves, as the turn passed on to the others, we get to notice a beeping sound on the place where we were sitting,
some people of the group were very curious about it and luckily it was not a bomb but a device used by the cubbon park officials for maintaining the park.
As the drama ends, we moved to the 2nd round that is "Prepared Speeches", first one to go Keerthan bhat (3rd year student of engineering) gave a wonderful speech about " Difficulty in making choices" and he conveyed it in very funny way and few members of the group too shared their daily experiences they faced during making choices ( Anupam was one of them ) and followed by Keerthans speech me and Manish also gave our Speeches. This marks the 2nd rounds end.
Here comes the "Impromptu Speech" round. Soma today's shg coordinator came up with the "Different, cool and funny topics" and everyone gave their shot for it.
Some of her topics were
" You have come across your childhood friend who doesn't know about your stammering, how will you face him",
"How will you conquer your fear of darkness" this one was given to Shobhit and he did it well.
" Share the events that made you happy" this was Anupam's. While starting the round, we set minimum speaking time for 2 mins so some of them finished before that and was thinking to add more lines like the student in the examination hall thinking to write more lines of answers with the left time😃.
From here it becomes interesting (SHG Always interesting), we sat nicely on the grass in a way that made our back straight and legs bent to 30° degrees. Perfect position to practice yoga. As we sat soma started to show us the different asanas that she practices like pranayama etc. It made us very fresh and active.
With that freshness we moved to the last n fun round of todays shg that is "Dumsharads". We divided into 2 teams and we became small actors as we participated in it, we had really good fun here. This round was mainly to improve the non verbal communication skills!!!
And that's all happened here, all were ready to leave.
As we leave, SHG sings a song for us " kabhi Alvida na kehana, shg ko continuous attend karna"
TakeAways__
* Practice yoga daily to bring energy and freshness in to your life
* Non verbal communication is also important to communicate.
* Acceptance, Tisa core values.
Report by Shreyas KJ(9986569300)
Shg coordinator : Soma roy