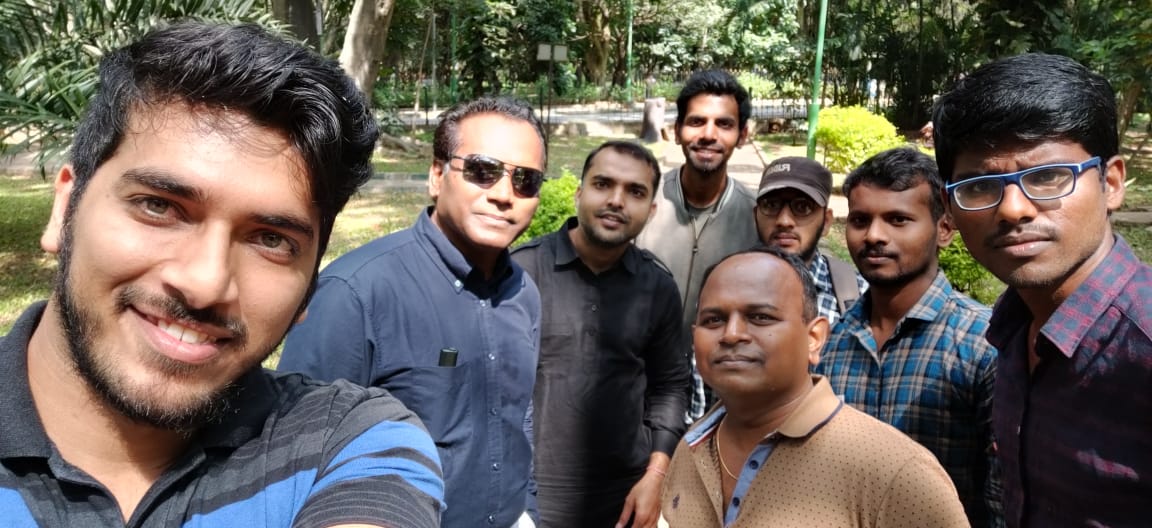 Attendees (L to R): Rahul, Joshua, Ravi, Sharad, Manish, Veershekhar, Vighneshwar, Anna
Venue: Cubbon Park, near central library.
Time: 10 AM to 1 PM
Today's Self Help Group (SHG) meeting was hosted Ravi. We began our meeting with self introduction, we introduced ourselves, spoke about our respective professional experience, our hobbies, association with TISA and answered the questions asked by fellow PWS.
Next in agenda, we had experience sharing, where we had to share good and not so good experiences. Even though it was not at all necessary to relate our experience with stammer, but as usual some of us indeed as spoke about stammer. Also we had to stretch our minds to recollect our  good experiences, whereas to talk about not so good experience was pretty easy. Some of us re-lived the funny moments from past.
Next, Veershekhar gave a prepared speech and he talked about the Ford company.
Next in line was fun activity. Some of us recited poems, while some sang songs to showcase their hidden talent.
While we were busy in our fun activities, we had a guest, Sharad, and he took interest in our SHG activities. Being a communication enthusiast Sharad shared about his experience and the communication challenges he overcame in his career.
It was fascinating SHG meeting and we concluded the meeting with a selfie.
Mail ID for contact: shgblr@googlegroups.com