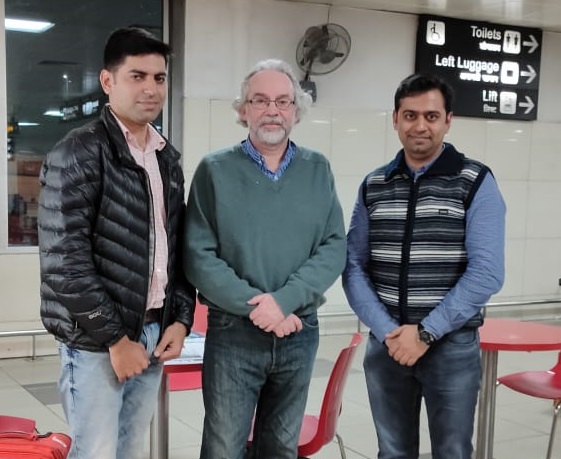 TISA is collaborating with 50 Million Voices ( or 50mV, website: https://www.50millionvoices.org ), a UK based organisation (the name suggests to reach ~50 million people who stammer in the various workplaces across the world) that strives to raise awareness among employers about stammering. It has representatives from about 15 countries, who meet through hangout calls, once a month to share ideas and initiatives towards the goal. (Countries like US, UK, France,  Japan have done a tremendous job in this field, and the leaders from those countries share their strategies with other participating countries).
Shilpa Sagwal, who leads the core team of IWWS, TISA's Women's Wing, is representing India (TISA) in this project. Iain Wilkie, the founder of 50mV, had a meeting with Stefan Tromel, head of GBDN, Global Business Disability Network in UK. They exchanged their thoughts about 50mV and possibilities of getting some action on ground in India ahead of Stefan's visit to New Delhi for the first IBDN (India Business & Disability Network) conference. Since a short notice traveling was not possible, it was decided that local volunteers at Delhi (where Stefan was visiting) would stand in the meeting. Two very able and determined volunteers from Delhi- Dixit Arora, who coordinates Delhi Self Help Group and Alok Kundnani, who has played a pivotal role in Delhi Self Help Group, were chosen to represent TISA in this meeting.
Dixit and Alok reported to have a very fruitful meeting with Stefan. They introduced TISA and it's core values to Stefan. They also briefed him about various activities TISA have been doing since 2008. Stefan then talked about the first India Business Disability Network (IBDN) conference which he attended. IBDN runs under Confederation of Indian Industry (CII), and Stafan informed that about 60 companies participated in this event. Stefan also spoke highly about Sarbani Chakraborty, who heads IBDN.
To take the discussion further, Dixit and Alok spoke about how stammering impacts life of PWS at work and how often the employees are misunderstood to be quiet, shy or low in self-confidence, whereas in reality he is only struggling with his stammer. Stefan reckoned that many candidates with diversity once employed have showed that they can excel. Further, Stefan was curious to know how we can bring awareness about stammering also to these companies, with a possible tie-up. Possibilities of conducting awareness drives, presentations, seminars and/or webinars were discussed. Some hand-outs and materials of TISA were shared.
Finally, it was concluded that Stefan would have a follow-up meeting with Iain back in UK and discuss the way forward. In the meanwhile, he also promised to connect TISA with Mr. Sharbani Chakraborty of IBDN.
Overall, the meeting was very encouraging. TISA would like to mention special kudos to both Dixit Arora and Alok Kundnani for showing up at the meeting despite the conditions being not so friendly. The entire team- Shilpa, the 50mV leader from TISA, Harish, National Coordinator and the entire team of TISA are positive and hopeful that this is only the beginning and some great initiatives will shoot out as a result of this effort.
Also Read: The rainy day, that couldn't stop our play – A report : Here, Alok Kundnani shares his experiences about the meeting, how they prepared, what challenges they had and what was discussed during the meeting. This is a must read.