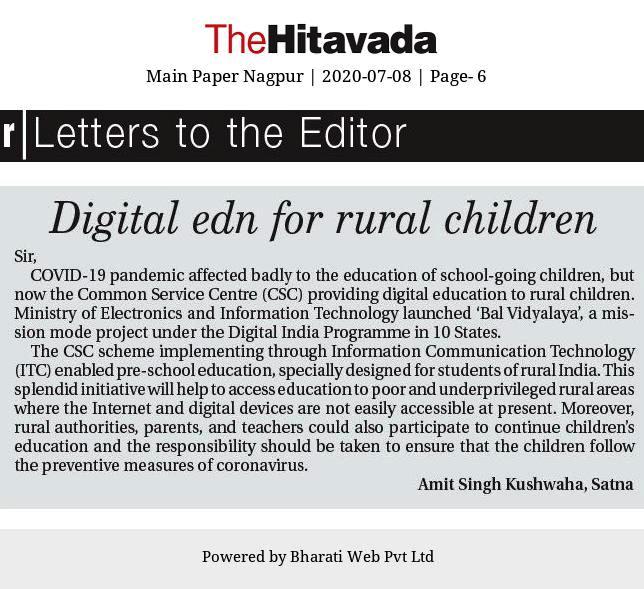 I have been writing in Hindi since 1996 and my articles, poems, and stories have been published in different newspapers. Sometimes I received remuneration from newspapers for my publication.
Similarly, I have been reading English newspapers for a long time. I think about a dream when my English write-up is published. Years come and go but my dream is not fulfilled.
On 22nd March I went to Bhopal at my in-laws home with my wife and daughter. Suddenly, the government has announced a countrywide lockdown due to the coronavirus pandemic. I have tried to go to my home, but all transportation modes were canceled. 
I was tense because my daily routine has been interrupted. I spent my time watching news channels, crime shows, and aviation documentaries. I felt like jail, we're unable to go outside.
One day a positive morning comes. A TISA friend shared a 6 minutes video and discussed positive aspects of lockdown. A time to improve yourself positively. As a consequence of this video, my inner voice told me – "Just start to change yourself". On 2nd April firstly I unsubscribed all crime Youtube channels, stopped watching all negative videos and news.
That time I decided to improve my English speaking and writing skills. Start watching English movies, news, and documentaries. I have installed an English learning app "Duolingo" on my mobile phone and practicing daily. One day my close friend Jitender Gupta, who is the coordinator of the TISA New Delhi self-help group, called me and said can we start English speaking practice on the phone? I also want this opportunity, so we both started to practice on the phone.  
I have started to spend more time improving my English only. I wrote a little write-up and sent it to English newspapers which I read regularly at my home, but the write-up is not published. Hence, I published my two write-ups at stammer.in website. 
During this lockdown, I am thinking regarding health, sanitation, and personnel hygiene issues. This is the day of 1st May. I wrote a little article in 150 words and sent it to my friend Harish (National Coordinator, TISA) for editing. He made some corrections and resented me. I sent this to The Hitavada and Free Press newspapers. 
The next day, I was surprised, both newspapers published my write-up. My dream is in reality. My name was published in English newspapers. This beginning gives me confidence and encourages me to write more. After every 2 days, I wrote a little article and sent it to Harish for editing. He is very kind and supportive and he also edited my articles timely. End of May month my 10 articles have been published in the different newspapers of India.
Finally, I booked a cab, got a pass from the government, and came back alone to my hometown Satna. I left my wife and daughter in Bhopal. 
I was feeling good because I had come back to my home. I have continuing writing work. By the end of June, 21 articles published in newspapers. Every article edited by Harish and some other friends like Pramendra Singh Bundela, Smit Panchal, and Bhupendra Singh Rathore. All people who stammer are supportive and help others.
The everyday article has to be sent before 12 o'clock for publication. For a long time, it is not possible to send an edit to English knowing friends. 
I remembered "Acceptance" which really helped me to come out of fear, shame, and guilt of stammering. So I have started sending my articles directly without any editing. Editors made minor corrections sometimes and published it. From May till today my 29 articles have been published in newspapers. I am really thankful to the editors who published my articles and inspired me to write more. 
I have gained confidence in English writing because I accept that I am a beginner. Made mistakes and learned more. I realized that many relatives, friends, technical devices, the internet, and mobile apps are available for our help but they do not initiate work for you. Only we change ourselves by doing and facing new challenges. If we start a journey others can support us and boost us.
So, This my whole learning on this lockdown. Happy reading.
Amit Singh Kushwaha.

(E-mail: amitsk68@gmail.com)