A people's movement
Since 2007 and even before, many friends and volunteers, came to SAMAGRA (where TISA began), did their good deed of the day – or year! – and moved on. This was Fine. Service can only be measured in terms of motivation, shraddha – and not in the terms of time or money. Secondly, if stammering is a diversity, we do want people to move on, once they have understood this truth – instead of returning again and again for "refresher course" – like in clinical settings. Life is much more than associations, self-help, fluency and recovery. So much MORE. Right?
Prem Kumar, Pioneer, 2007
But some friends remained in touch over emails, ORKUT, IPWS Yahoo group etc. and met for the first time in Mumbai in 2009. A public blog began to shape the contours of a nebulous community (1% scattered all over this vast country). Self-help groups started, nurtured by Communication workshops (over fifty) and other events and modalities – personal visits, whatsapp, Google hangouts, phone calls ("speech practice") etc.
Then, came the first National Conference in Bhubaneshwar in 2011 winter- It was JP's idea; Against our wildest dreams, about 50 pws turned up. Sincere thanks to IHS and Dr Satya Mahapatra for logistics. Thereafter, every year, 100 or more pws have gathered in some Indian city for three days – like reunion of a family separated at birth: Koorg, Khandala, Delhi, Goa…
In the last couple of NCs, young women who stammer and some families too have participated – a heartening trend. In a nutshell, this is a long story, waiting to be written down someday! Hopefully. So, have we arrived? Not yet! Redefining stammering as a diversity which one can live with, celebrate and build upon – is an idea which gets challenged every moment by old structures and mindsets; Society stigmatizes every deviation from "normal"; there is a powerful health care industry which is too ready to "fix" it. Stammerer too prefers the "much travelled" path of paying a therapist and surrendering all responsibility for his own well-being.
But were we not born to attempt the impossible? As Ritik Roshan said: Jindagi milegi na dobara.. (We have this life only- to play with!). Why worry? We have nothing to lose – except shame and fear, and everything to gain!
We have often been told as children: What will you do- you cant even say your own name? But TISA experiment has taught us: saying one's own name is not a big achievement after all! Hailing out to others, befriending them and listening to them, IS. Serving others, IS.  Being afraid and still going ahead, IS.
Finally, world changes or not, if I can change myself – my world gets immediately transformed. We do not measure our success in numbers and budgets. We are not looking for "improvement" – we are aiming at transformation. A radical change in the way we see stammering and other superficial differences in mankind – and our purpose here on the earth. So, the journey continues. Join us sometime. Just for fun. Like the people below..   (Tisa History in Brief)
Search For Meaning
If Viktor Frankl (wiki) is correct, suffering can become not only tolerable but even uplifting, if one could find some MEANING in it. We began with a search for "cure" but ended  up looking for meaning, a purpose.  We have tried to make "sense" of stammering in our lives. This search for meaning despite our constant struggle with words, disappointments and difficulties in relating to the rest of the world – has taken a collective shape as TISA. Many of us now believe that stammering, like many other struggles in life, is a mysterious portal into a different world of understanding, empathy and purpose in life. But, one has to knock at the door for sometime!
TISA is being led by Harish Usgaonkar, a warm, sensitive and empathetic team leader who has served the community sincerely since 2009. Click Here to know more about the TISA core team.
SHG Coordinators
If you are someone who stammers and live in a city mentioned below, feel free to contact the facilitator – they are all people who stammer, who are qualified by TISA to run SHGs. SHGs are free of charge.
Don't see your city listed here? Interested in starting your own SHG? Check "All Resources" page. OR Contact info@stammer.in
Ahmedabad SHG
Vipul Ubhadiya
09879812300
vipul_ubhadiya87@yahoo.com
Akola SHG
Akash kukreja
7249696209
Allahabad SHG
Vinay Tripathi
08874483583
tripathi.vinay397@gmail.com
Aligarh SHG
Sikandar Alam
8266917354
sikandar.131@gmail.com
Bangalore SHG
1) Sharath
7411090880
Email – sharathchandra1360@gmail.com
2) Nishil
9008416379
Email – nishil.shetty1@gmail.com
Bhiwani (Haryana) SHG
Umesh Rawat
umeshrawat1987@gmail.com
rawat_hi@yahoo.com
9813973747 , 8529982551
Bhopal SHG 
Avinash Gupta
8602493285, 9074241701
aviambey@gmail.com
Chandigarh SHG
Jasbir Sandhu
9915006377
sandhujasbir7@hotmail.com
Dhruva Kathuria
8968069221
kathuria.dhruva@gmail.com
Chennai SHG
Manimaran Velan
9884289989
manimaran57@gmail.com
Vinothkumar Krishnamoorthy
Mobile: +91 9840376928
Mail ID: sendamailtovinoth@gmail.com
Rahul Banerjee
Mobile : 09831200811
Mail ID : Rbanerjee548@gmail.com
For whatsapp : 07418139242
Dehradun
Mohit Dwivedi : Mob- 8057032220, 8272032220
Tushar Kukreja : Mob- 8272062864
Dayal Dhapola : Mob-9897424809
Email – dehradunshg@gmail.com
Delhi SHG
Jagbir Singh
9810550309
jags02101@gmail.com
http://www.meetup.com/TISA-Delhi/
Vishal Gupta
8447490753
vishal.gupta67@gmail.com
Faridabad (near Delhi)
Abhishek kr verma
9873492722
abhi.it.rgec@gmail.com
Goa SHG
Harish Usgaonker
9823211467
harishusgaonker@gmail.com
Herbertpur SHG (near Dehradun)
Pawan Rathore
9410187425
Hyderabad SHG 
Rajesh .V
cell:        96 76 82 0007
yahoo id: wanted2talk2u@yahoo.co.in
gmail id: rajesh.jaca@gmail.com
skype id: rajesh.jaca2
Ramu
+91 8143344240
Santosh
+91 9849396919
Indore SHG
Jitender
8463830682
IIT Dhanbad SHG
Sumit Kumar
90315 47349
Jammu SHG 
Rajesh Jandial
jandial1986@gmail.com
09858660917
Jaipur SHG
Ravi Kant Sharma
9461257111
ravikantsharma5651@gmail.com
Siddharth
7568555488
hearsid@gmail.com
Kolkata SHG
Amrit Singh,
9804557388, 8820818500
amritsingh888000@gmail.com
Kushal Batbyal
8981876099
batabyal.kushal@gmail.com
Kanpur SHG
Karan
8960075545
karanbaggs@gmail.com
Lucknow SHG 
Pramod Maurya
09450965710
pkmaurya_72@yahoo.in
Atul Singh Sainger
08765107712
Nimach & Mandsour SHG, M.P.
Sanjay Rathor
9827396355 / 8827154737
sanjay84rathor@gmail.com
Meerut SHG
Niraj Dixit
9412783111
Muradabad (UP)
Himanshu Kapoor
8755636066
Mumbai SHG
in Ghatkopar
Gaurav Dubey
9819721804
gaurav.d.1990@gmail.com
Kevin D'Souza
9702070743
kev.start1234@gmail.com
in IIT Bombay Kamal Yadav

7506144798
kamal.yadav@gmail.com
Nagpur (& Wardha)
Mr. Vikas @ 9458265221.
Manish Upadhyay.
m2mts.ngp@gmail.com
Neemach or Mandsor (MP)
Mr. Sanjay singh Rathore
09827396355
  
Patna
Suraj
surajcdeo85@gmail.com, 09835017356
Mohit
mohit04298@gmail.com, 07277478087

Pune SHG
Amol Karale
amolkarale9763@gmail.com
9763951322
Vishal Yewale
vish.yewale22@gmail.com
8421452724
Mitul Panchal
mits4u3@gmail.com
Roorkee SHG
Mukesh
08909670580
Satna, Madhya Pradesh
Amit Singh Kushwah,
Mobile No. 09300939758
amitsk68@gmail.com
Shimla, Himachal Pradesh
Abhishek
abhikumar.bsnl@gmail.com
9418002112
If any other SHG is running on Self help principles, please give information, it will be updated.
(Hemant, BIG thank you for updating this list)
Our Gratitude: This journey has had many meetings and many partings. Even when tyranny of day to day grind, makes the mind "forget" some of these friends, who inspired us, shared their resources and thoughts, opened their homes to us – they are always in our hearts. Even though they are too many to fit a little box, we must express our gratitude; Click the toggle below- and let us know, if a name is missing here..
Acknowledgement
Many thanks to Dr Pradeep (Samagra Trust, Dehradun). Samagra was the place where most of us met in the early years – 2006 to 2009, when idea of self-help took roots. Dr Alok (Medicasynegie, Kolkata) has offered valuable help constantly: Medicasynergie hosted our Communication workshop in April 2010. SMTA, Vikasnagar hosted our first workshop in Jan 2010. Herbertpur Christian Hospital and Anugrah have supported many of our workshops and events.
Thanks to many media person also, who have helped and spread the word. Much thanks to many other institutions and individuals: Dr. Farida D'Silva Dias, YMCA, Goa. Dr Noura Embabi (SPEAK). Many thanks to all the SHGs, volunteers, friends. Thanks to Dipesh, Abhinav, Dhruv (SPEAK) and Vishal who volunteered to set up this website. Our gratitude to Dr Akash Acharya, Mr Viren Gandhi, Mr Virendra Shirse, Mr Jasbir Sandhu and Mr Pramod (Chandigarh) too, who have supported TISA from the very beginning.
Finally, Sachin wishes to express his deepest gratitude to Sri Chandraswami Udasin ji of Dumet– the silent saint of Yamuna valley, whose blessings got the ball rolling sometime in 2004; who emphasised that selfless service is a limb of Yoga; who convinced us through his life that a deeper communication can happen without words. He sincerely thanks Br Ananta Chetan too, for his valuable feedback, encouragement and precious company (Talk the walk).
Many more friends who have jumped in from time to time- and offered immense help: Yaadgar, Raja Poladi, Romi Arora, Ravindra Sonsurkar, many friends in Chennai, Herbertpur, Pune, Mumbai, Chandigarh, Delhi, Banglore, Hyderabad and so on…
Our families and friends who have encouraged us on, even when they had no clue and were worried!
Volunteers of the Month
Many Volunteers have helped us  reach where we are today. In fact all of us are volunteers! WhatsApp warriors, Facebook Fighters, People answering emails and phone calls, Friends organizing workshops, get-together, conferences – as if they were organizing the Maha Kumbh Mela.. We wish to thank ALL the volunteers – especially these volunteers : Hemant Jangid, Vishal Gupta (Delhi), Dhruv Gupta (Mumbai), Dipesh, Abhinav (Pune), Vishal Yeole, Soumya, Jonali…
TISA in News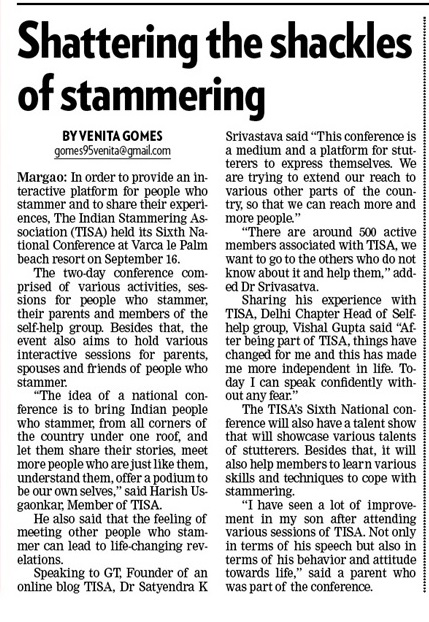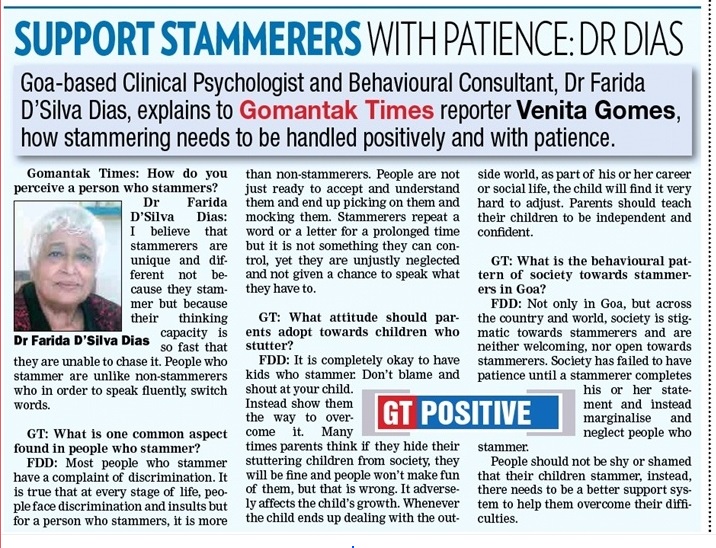 Goa NC in Gomantak Times (Page 1, bottom)
Goa NC in Heraldo
Stammering is what you do to avoid stammering. Stop fighting and stammering too will leave you alone.
---