TISA Bangalore Shg meeting: 09/07/23.
Note: The following is the report from the self-help meeting in Bangalore on 9th July. The report is from Arjun, one of the participants. These self-help meetings happened across India- Delhi, Jaipur, Mumbai, etc. More information can be found on the TISA website.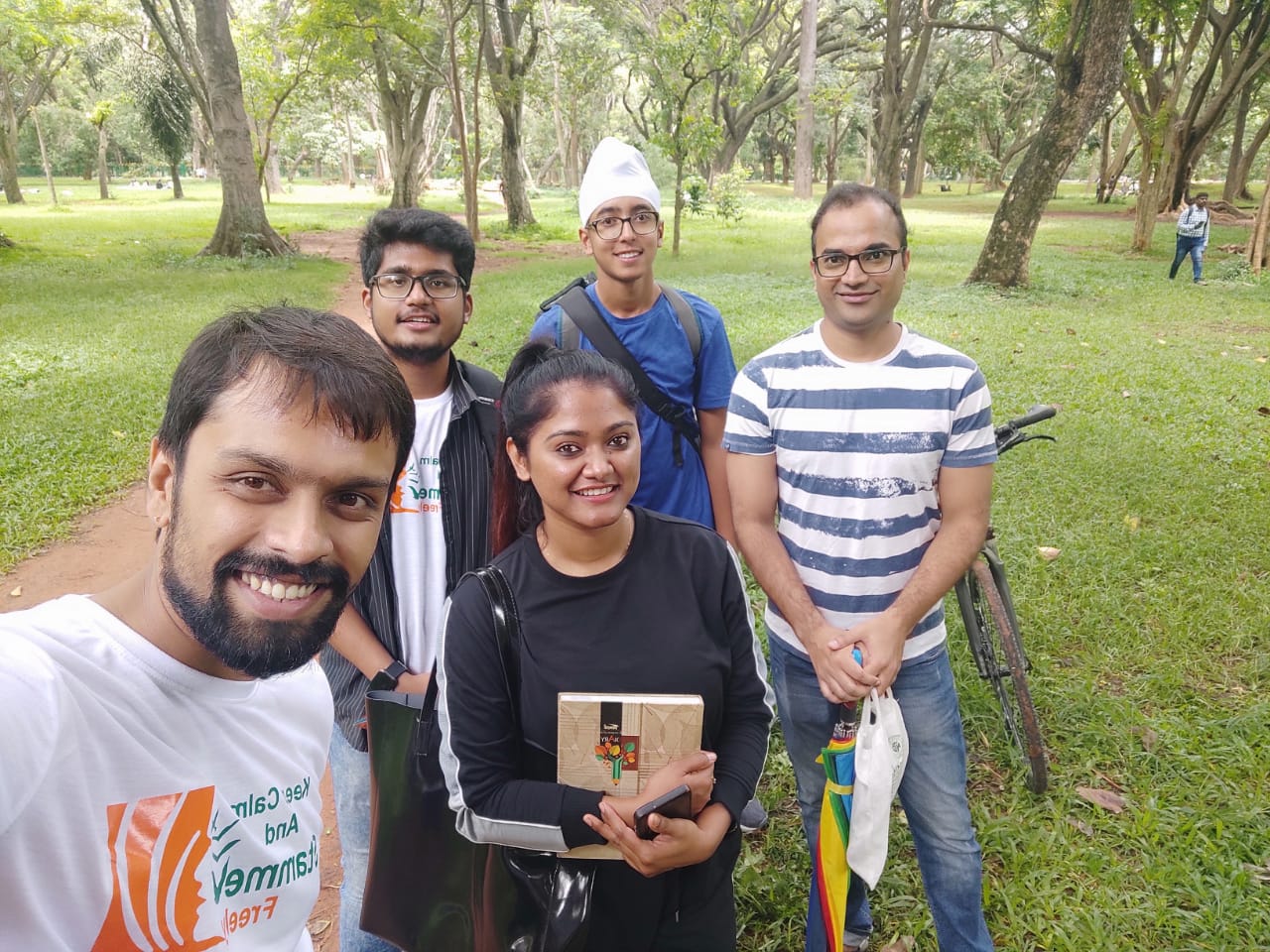 I reached by 9:30 on a very pleasant and cloudy Sunday morning. Angad, Sudhanshu, and Laboni were trying some yogic stretches, with Angad being the trainer!! I too joined in. And after our stretches, we decided to stretch our vocal cords. We planned on doing the stranger talk first and following it up with our round table conference.
The plan was to go to CCD and do some stranger talk (this was actually planned by Dipin last week). As we reached the gate of Cubbon Park, there were lots of food stalls, tempting our taste buds. Laboni and angad went for vada pav. Sudhanshu and I decided to go to a nearby clothes stall and try our hand at voluntary stammering. While I tried my hand at pseudo-stuttering while trying to bargain, I was surprised to see that no one really cared about my stammering. Even the guys selling were only interested in what I was buying and didn't pay any attention to my stammering.
My stammering didn't get the attention it deserved.
We then proceeded to CCD. We wanted to speak in front of the staff there but were politely denied permission, as they didn't want to be disturbed during working hours.
So we decided to get back to our playground, Cubbon Park. We did some stranger talk.
After a stranger talk, we were greeted by our very own, Vinayak. It was great to see that smile on his face.
We decided to skip our introduction round (we have given enough introductions about ourselves in the previous weeks)
We all decided to speak on the topic- Why did we choose this path of working on our communication?
Sudhanshu spoke about how he wanted to be able to communicate better, more fluently, and without wasting much time, especially in his office meetings. And that communication plays a major role in the workplace.
Angad, the young budding golfer, spoke about the fear he had inside him, and how he wanted to overcome that. He used to be very afraid of asking doubts in class. But now, after joining TISA, he doesn't hesitate in asking doubts. He doesn't mind even if he stammers, he still chooses to ask doubts. He is only 17. The SHG experiences will do him a world of good.
Vinayak went next. He spoke about how he had a very severe stutter. He joined TISA at the age of 14-15! !! Following this he got significantly better, but then discontinued SHG for a couple of years due to his studies. And following that, he developed social anxiety. And that was when he remembered the effect TISA had had on his life. He decided to rejoin in 2021 and has been a regular since. He said he no longer fears speaking to people, but has some residual fear when he is among a lot of people and isn't talking.
Laboni then spoke. 1month After joining her new company, she was told that she will have to start hosting the meetings. That's when her alarm bells rang. That night, while she was surfing ways to cure stammering in 10 days, she came across TISA. She then joined SHG and hasn't looked back since. She is a totally different person now, and almost completely cured the stammering mindset. She is a very confident communicator now.
I spoke, about how I have been tired of this constant mental noise, about avoiding words, situations, people, substituting words, etc. Tired of my life revolves only around words and sounds. I wanted to get over this mental gymnastics. I wanted to stop running away from my stammer. And that was what led me to TISA.
So all in all, it was a Sunday morning well spent. Before we realized it, it was already 12pm. With renewed energy, we got back to the 2nd half of Sunday.
Until we meet next week.
-A report by Arjun
Do you stammer or do you know anybody who does? and do you want to join such groups?
You can join by reaching out to us on any of the below channels:
TISA-Bangalore Instagram: https://www.instagram.com/tisabangalore/
Email: tisabangalore0@gmail.com
Contact: Tapan Samantha: +91 99001 62098