Bangalore shg-meet: 18-06-2023.
The following is the report from the self-help meeting in Bangalore on 18th June. The report is from Arjun, one of the participants. These self-help meetings happened across India- Delhi, Mumbai, etc. More information can be found on the TISA website.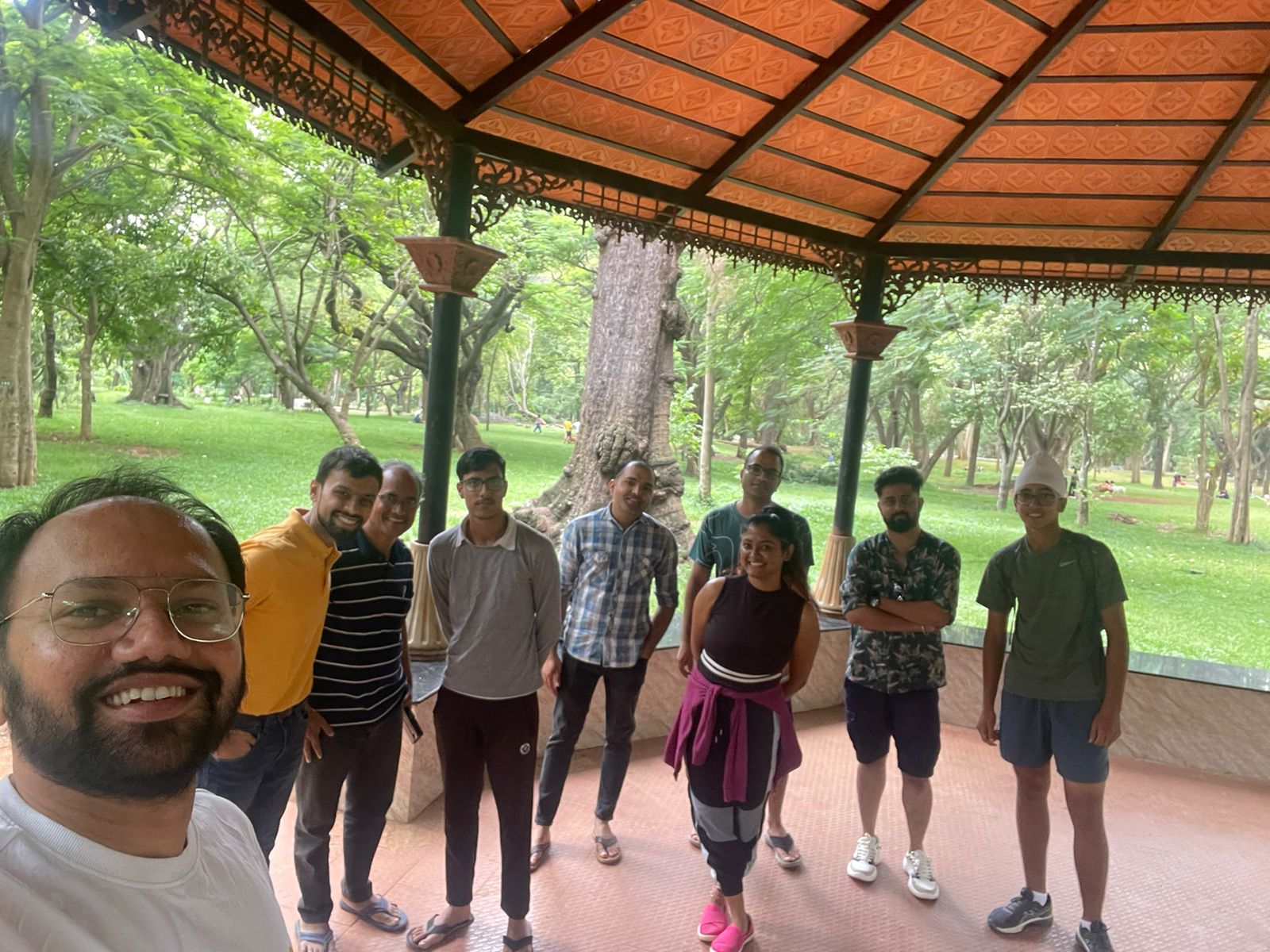 From left to right:
Nishil, Arjun, Amarnath, Naveen, Ravi, Laboni, Sudhanshu (behind laboni), Vishwas and Angad.
It was a very pleasant day in Bangalore.
We all met by 9 am.
I (Arjun) had brought my wife and daughter along. After meeting everyone, they went to the kids' area to play, leaving us (pws) to our Sunday Gupshup.
Sudhanshu too had brought his wife. We all gave our introduction. Special mention to Angad, who has only recently joined us. He is still in his teens, and it's fantastic that he is already a part of TISA and on the track to lead a life of acceptance (not just limited to acceptance of speech). He is a budding national-level golfer!!!!!
Naveen, who has been with us for quite a few weeks. It was great to see him make progress, tiny little steps of progress. But he is getting on track. He wanted to speak more, which was fantastic to see.
Vishwas spoke about how he is more comfortable while speaking on the phone, but not so when he is in a direct face-to-face interaction. He said that during stranger talk in front of quite a few people, a few weeks back, he consciously spoke with a much louder voice, and that helped him significantly. So he is getting to know his speech and stammer a lot better.
Nishil gave us some insight on how to use the dining apps wisely to get good discounts on dine-outs, especially when taking your 'in-laws' for a treat.
Amarnath spoke about his recent trip to Gokarna and jog falls.
Sudhanshu said he is using a bit of prolongation in his office meetings. He is facing the fluctuations in stammering, but learning to manage it.
Laboni was her usual confident self. Ravi is a senior of Tisa, like Nishil. He gave fantastic insights about Tisa and how it has helped him overcome the fear of stammering. He has cracked quite a few interviews, with Acceptance being his foundation. Learned a lot from him.
I also discussed a bit about this week's lounge meeting, where Dr. Sachin asked us to share some embarrassing previous stammering experiences. How this helps us to desensitize ourselves to stammering and laughing a bit. Nothing better than laughing at ourselves.
We finished off with a stranger talk. One of the gentlemen gave a beautiful insight into his perspective. He spoke about how pws need to desensitize themselves and also change their self-image.
Overall, it was a typical Bangalore day, with temperatures at a very pleasant mid-twenties. We thoroughly enjoyed the weather and each other's company!!
-Report by Arjun