The first event of the National Conference was a recitation of Nobel Laureate, Rabindranath Tagore's poem, "Where the mind is without fear and the head is held high" by Ms. Shreya Kumar. Next in line was the Welcome Address to all the participants attending the National Conference 2021 given by Mr. Harish Usgaonker and a list of Dos and Don'ts announced by Mr. Suraj Rajpurohit.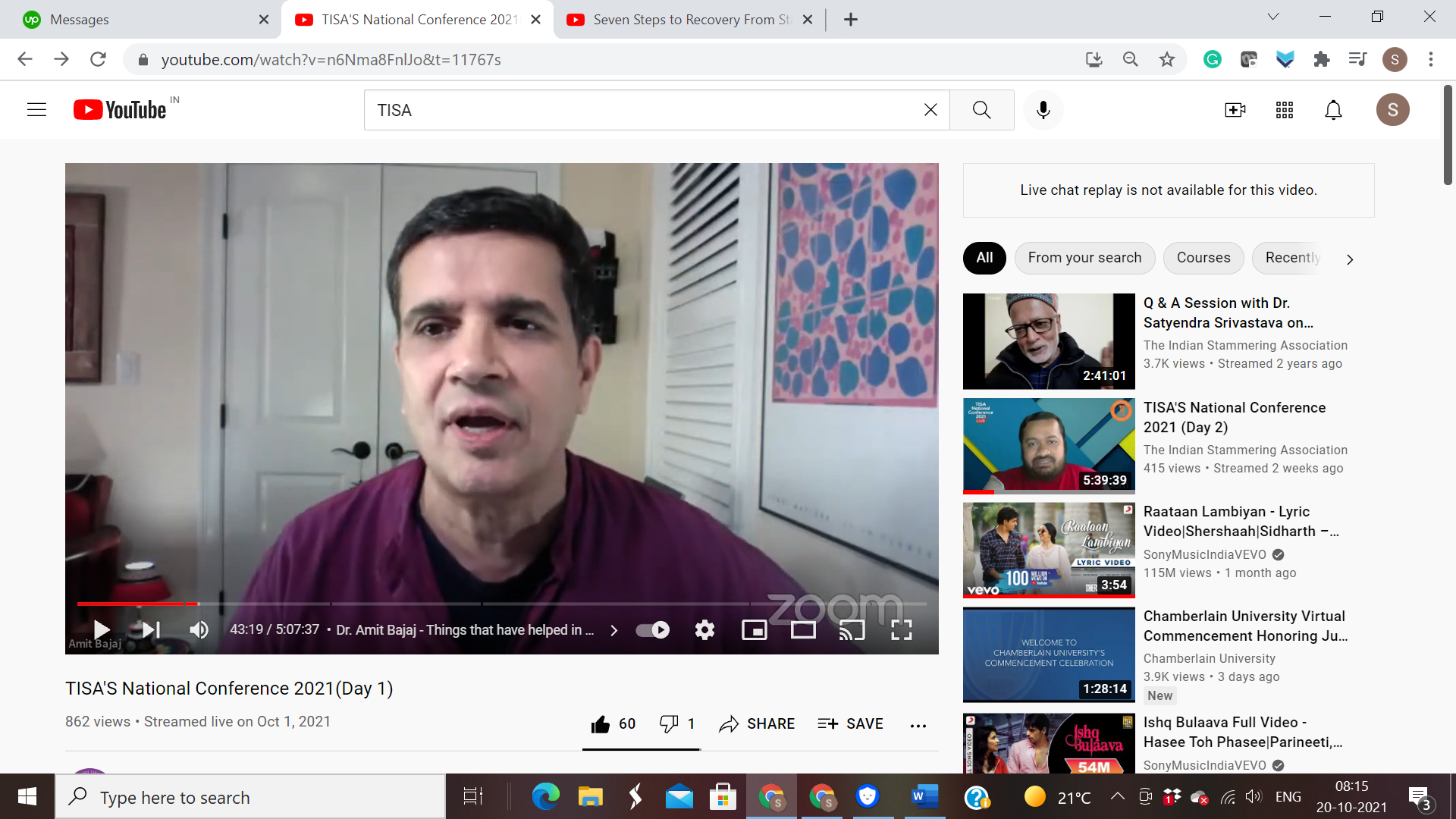 Dr Amit Bajaj
Associate Professor, Communication Sciences and Disorders, Emerson College, Boston, USA.
Dr Amit Bajaj, who currently works as an Associate Professor of Communication Sciences and Disorders at Emerson College, Boston, USA gave the inaugural address regarding, "Things that have helped in my journey with stuttering (what I would tell my younger self about living with stuttering". He began his talk on a personal note, describing his childhood spent in Delhi, where in school, he had his fair share of teasing, bullying. Getting candid about his experience, he described his 20s as a period of despair, where the light at the end of the tunnel was the insight that he should do something that he really cares about, which was his speech. He then came to the United States 30 years ago, to complete his PhD in speech pathology. During this time, he has received speech therapy, delivered speech therapy as well as researched on it, with a majority of his time spent in classrooms teaching and training speech pathologists. He has taught the graduate course in stammering at Emerson College for approximately 20 years. He also developed it as an online course 2 years ago, covering a wide range of students.
He shared three practices, which he himself has been engaging in for many years. He also encouraged participants to watch the 7 Steps to Recovery from Stammering Mindset made by Dr. Satyendra Srivastava (Link: https://www.youtube.com/watch?v=Hrnqoy0f8yU).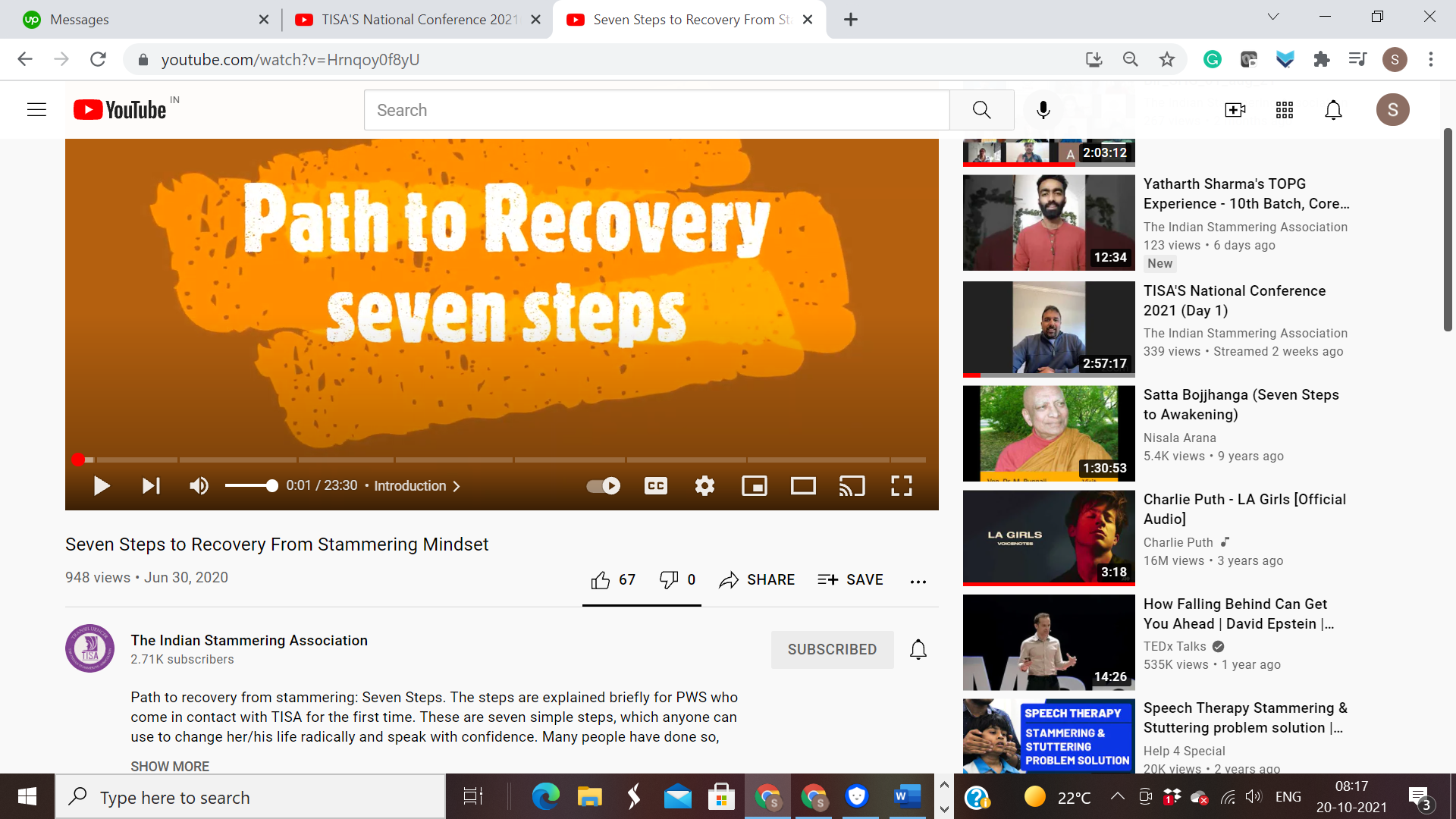 Dr. Bajaj then says, that he would tell his younger self three vital things:
Practice Acceptance
Practice Reflection
Practice Change
The ARC
Practice Acceptance
For Mr. Bajaj, having academically studied on acceptance; it means to accept the fact that one's speech is wired differently. He finds this notion very rudimentary/ basic but is also extremely liberating. The "Why me" mindset commonly faced is turned into "Why Not You" mindset in counselling. People who stutter have a strong genetic factor, atypical neurological profile, brain research too shows that children who stammer have their speech wired differently. He said, that this notion is liberating, as it makes him adjust his expectations.
Acceptance is a fluid state. We all have an emotional, intellectual and physical relationship to our speech. Stammering weighs on us differently. Acceptance is also complicated.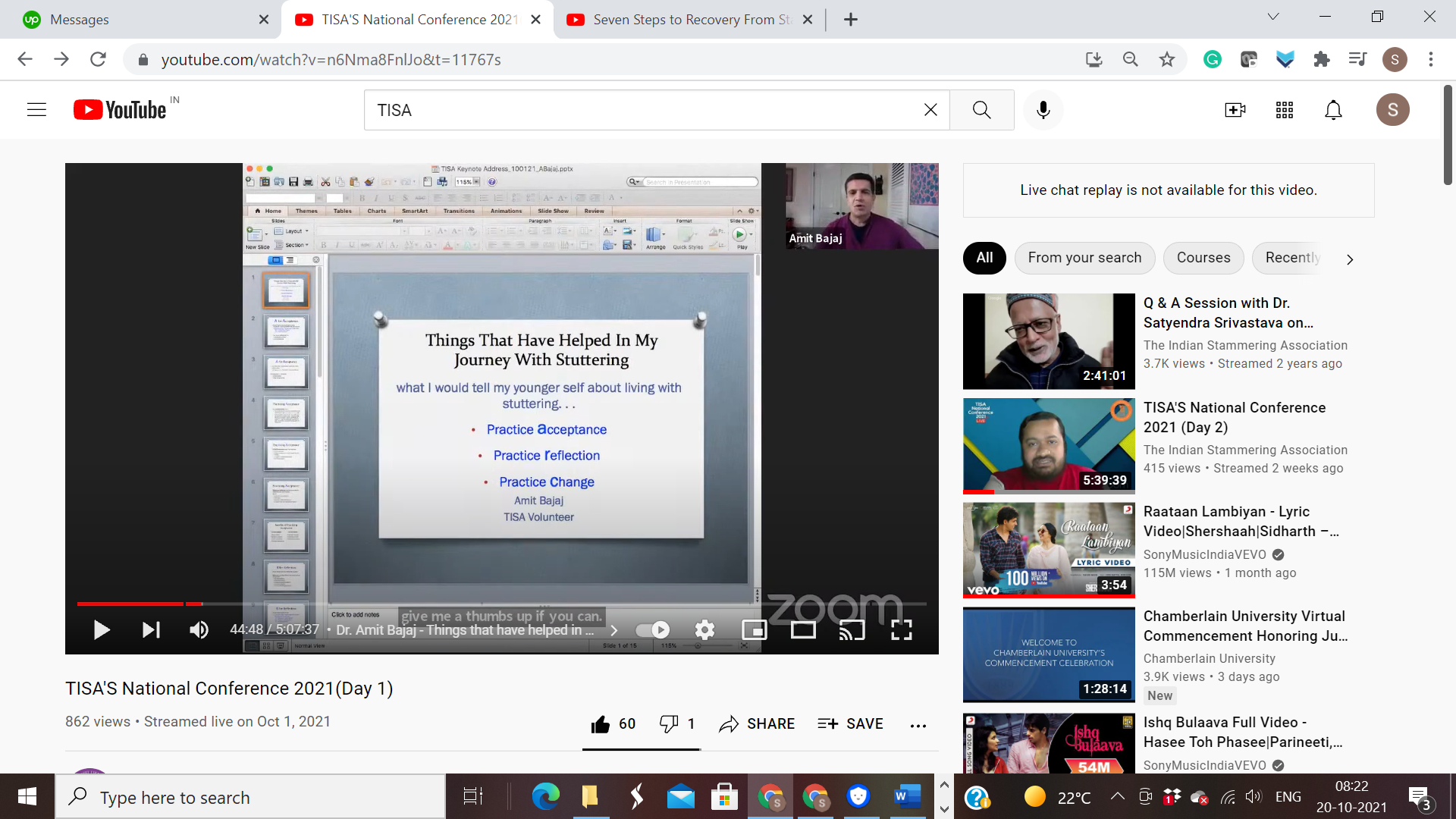 Acceptance as a practice can be strengthened by two methods:
Self Disclosure: Being ready and eager to self identify as a person who stammers. He also shared his self disclosure script. A self disclosure script has 4 features:
It is informative
Allows the speaker to ask what he needs from the listener
Suggests Collaborative Intent (What will help us)
It is not apologetic
Voluntary Stuttering: Stuttering purposefully, mindfully to desensitize oneself especially on days, when his speech is comparatively fluent.
Benefits of Acceptance:
Speaker:
Take Control of the narrative
Reduces fear and anxiety
Shifted the power dynamics of the conversation
Limits one's impulse to engage in avoidance behaviour.
Allows one to practice fluency techniques
For the listener, benefits are:
Reduces Surprise
Educates them
Positive response
Practice Reflection
Mr. Bajaj says that for a person who stammers, he / she never stammers alone, but stammers in the company of others, which can make him frustrated and/or crave for fluency, because he sees potential. He spoke about his own initial days, when in his childhood he was apologetic about his stammering. He talks about the many ways of dealing with the harsh inner critic within us. One way is by practicing compassion, developing an emotional maturity to overcome a negative situation. There are good days as well bad days. One of the ways to deal with the negative moment, is to go back to the stuttering moment with a view to understand what happened. Keeping the curiosity alive.
Turn the voice of harsh critic to an informed analyst
Some reflective practices include:
Talk about it, write about it
Use a tool with intention
Record and review
Practicing Change
In this context, Dr. Bajaj primarily grappled with questions, such as, "What kind of a person you want to be in this world as a pws ? How do I strive for my rightful place in a society which does not stutter". Dr. Bajaj talks about the recovery narrative in stuttering and the problems with it. He found it more useful to see himself as the benchmark, how he was 6 months ago, one year ago and how far he'd come.
He also emphasized on distributive practice frequently. Do a little bit, every day. Behaviour change that sticks, comes in small packages and are done frequently.
He concluded by speaking about various community self help groups for stammering across the world.
What  TISA has been doing under Covid epidemic: Our Major online initiatives and How these have evolved:
Mr. Nikhil Iyer spoke about hangouts, mock interviews, presentations happening in TISA, which included 500+ hangouts, 100+ mock interviews and 50+ presentations in the last 18 months. He gave some important tips, regarding hangouts and mock interviews. He also emphasized on acceptance and how it should be restricted not just to TISA, but outside TISA too, be it within office, college or school. He immensely motivated the participants.
Mr. Shalav Goel, Mr. Ritik Singh are two volunteers who've regularly hosted Hangout Sessions and they spoke about the various advantages in hosting hangouts.
Next, in line experienced interview panellists were invited to speak about their experience in conducting mock interviews in TISA. These included non stammerers such as Ms. Neeta Sinha, Mr. Rameez and other PWS like Ms. Anita Singh, Mr. Shailender Venaiyak, Mr. Shalav Goel. Mr. Aakash Gaitonde, Mr. Shalav Goel shared their experience of being the interviewee in TISA's mock interviews.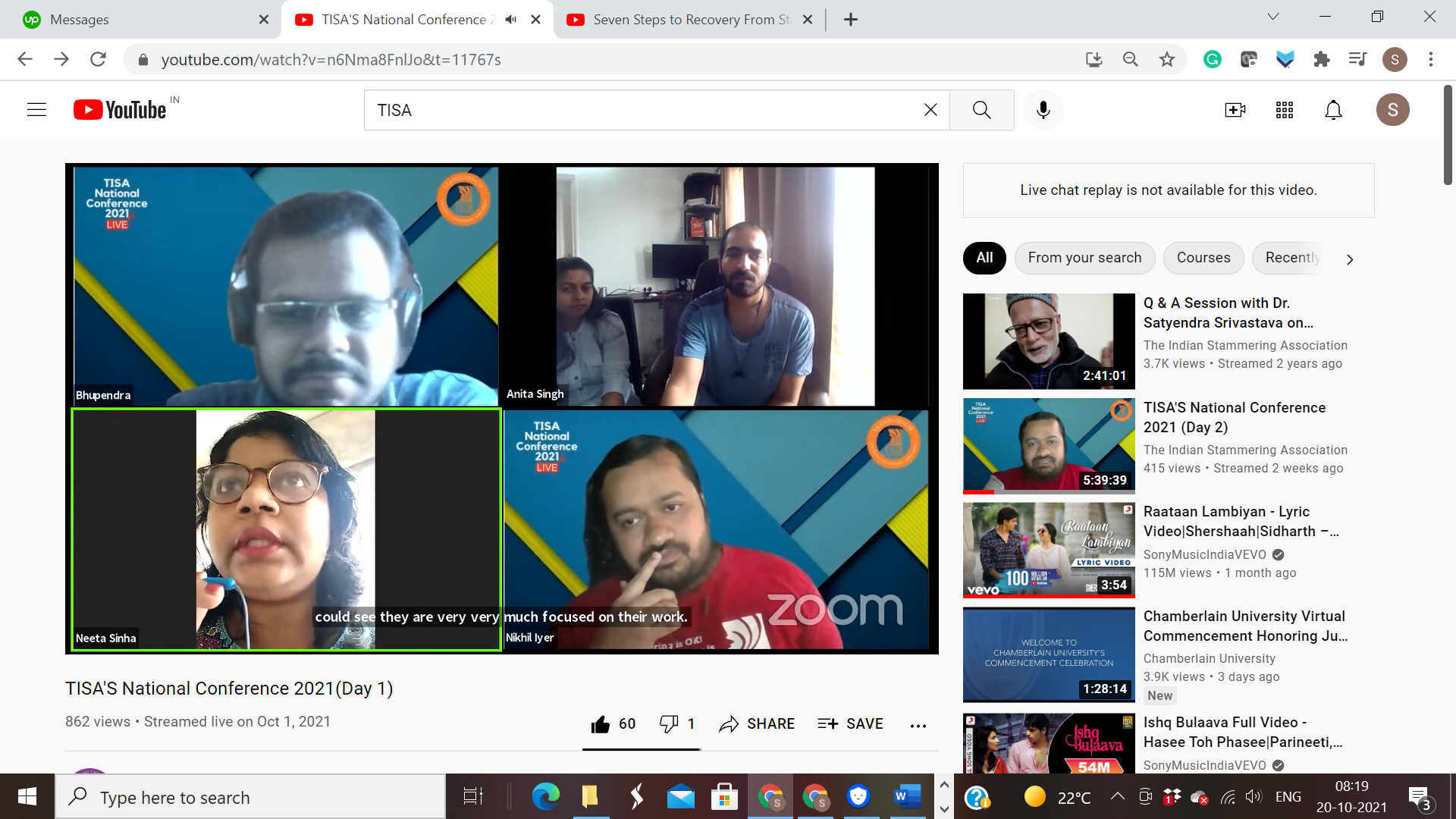 Mr. Nikhil Iyer, then spoke on the importance of presentation and how to effectively give a presentation in TISA. Finally, the event ended with  feedback taken from TOPG members as well as MOOC 2 presentation and feedback.
Creative Expressions by Shivank, Anita and Shreya
We had PWS (Persons who Stammer) who are active volunteers of TISA, showcase their hidden talents. Creativity plays a very important role in our journey of struggle, as Mr. Harish Usgaonker added, that being unable to speak up in class, he expressed himself better via writing, sketching, drawing which he shared amongst his classmates and acted as a stress buster. In this session, people who stammer were expressing their creative selves and how it helped them in rising above stammering.
Mr. Shivank Menon gave a brilliant performance of western classical music on the piano. Ms. Anita Singh gave an insightful and highly informative presentation on blogging and how it helps us in recovery from negative emotions. Ms. Shreya Kumar gave a humorous performance in the form of a satire on the various societal paradoxes currently existing in India.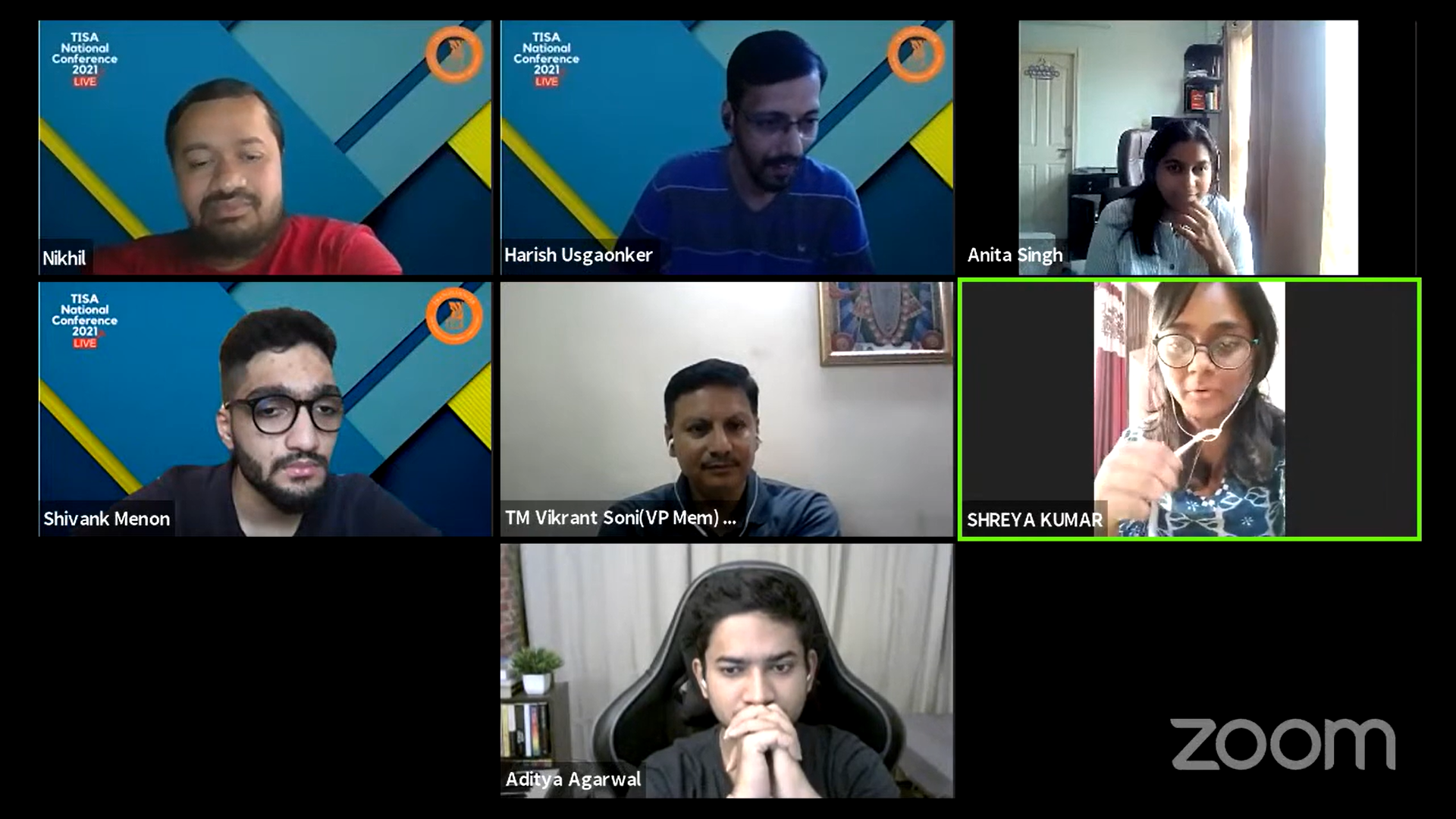 Guest Talk with Ranjith Sankar (Indian Filmmaker, Director and Screen Writer) & Sudheeran (IT Professional, Stuttering Warrior)
Mr. Ranjith Sankar is a renowned Malayalam Filmmaker honoured with multiple awards and owns, "Dreams N Beyond Media Production House". He directed the movie, "Su Su  Sudhi Vathmeekam" based on the life story of Sudheeran a person who stammers who is currently an IT Professional as well as a stuttering warrior. He is also a key contributor to the Bangalore SHG.
A short clip from the movie was played which showed the struggles of a person who stammers, where the pws boards a bus and was facing difficulty in asking a ticket from an impatient bus conductor. Mr. Ranjith Sankar narrated his journey, where he spoke about working with Mr. Sudheeran in the same company and in the same department. He said that he had made two films inspired from Mr. Sudheeran's life. Mr. Ranjith Sankar gave an empathetic understanding of the problems faced by PWS. Regarding the film, he spoke about how he'd turned real life, Mr. Sudheeran's IT Professional role to the reel life Bank Manager in the film. His own real-life filmmaker  role was transformed into a struggling actor, now successful star role in the film. The movie showed  them sharing a great rapport, which they actually share in real life too.
Mr. Sudheeran, said that  he had started expressing himself on TISA's Blog as advised by Dr. Sachin (Satyendra Srivastava).  He said, that his friend, the filmmaker Mr. Ranjith Sankar had recently seen the movie, "The King's Speech" who was impressed by the movie and realised the gravity of stammering. Mr. Sudheeran sent him his blog and Mr. Sankar was highly impressed by it and subsequently decided to make a movie on it. Mr. Sudheeran felt that if a movie could be made to inspire those who stammer and subsequently change the perception of the society towards stammering, nothing could be better than this. The movie was received well publicly and was a success.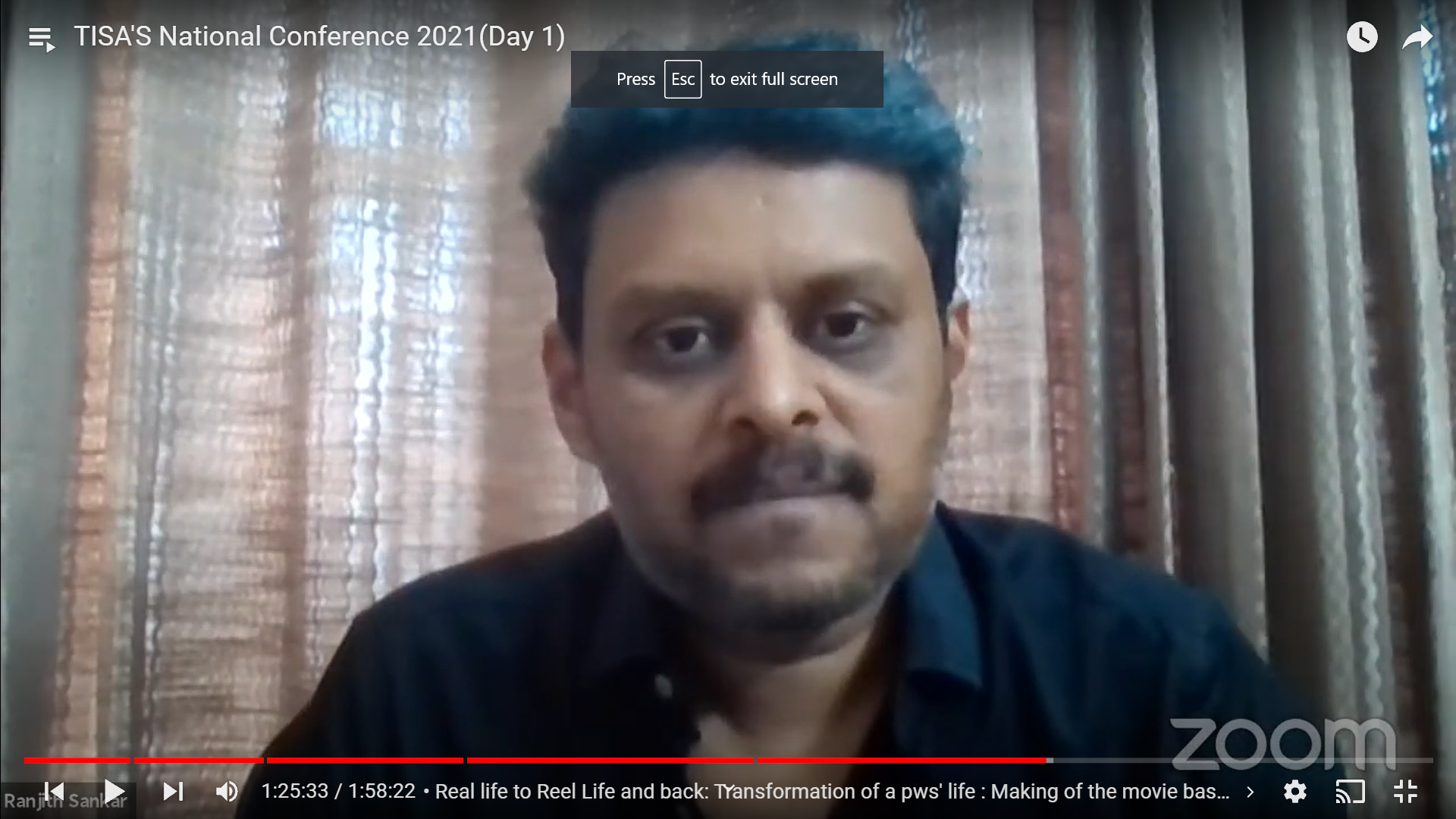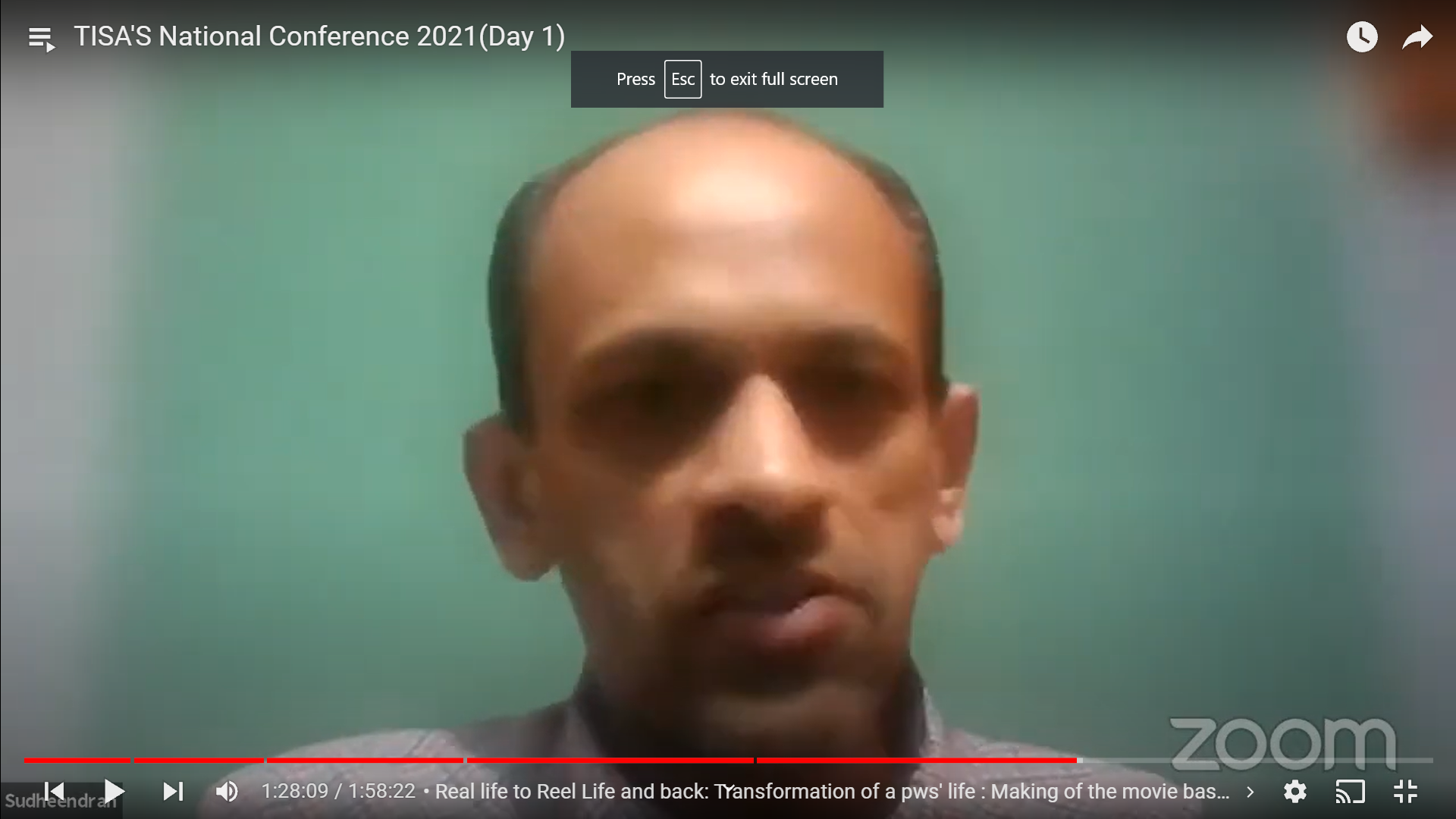 The movie has not just portrayed the struggles of people who stammer, but also given them hope on how they can successfully triumph it. In the movie, further it is mentioned how the protagonist is taught techniques such as bouncing to successfully deal with his stammering. (Bouncing and Prolongation are two techniques which TISA too propagates vehemently)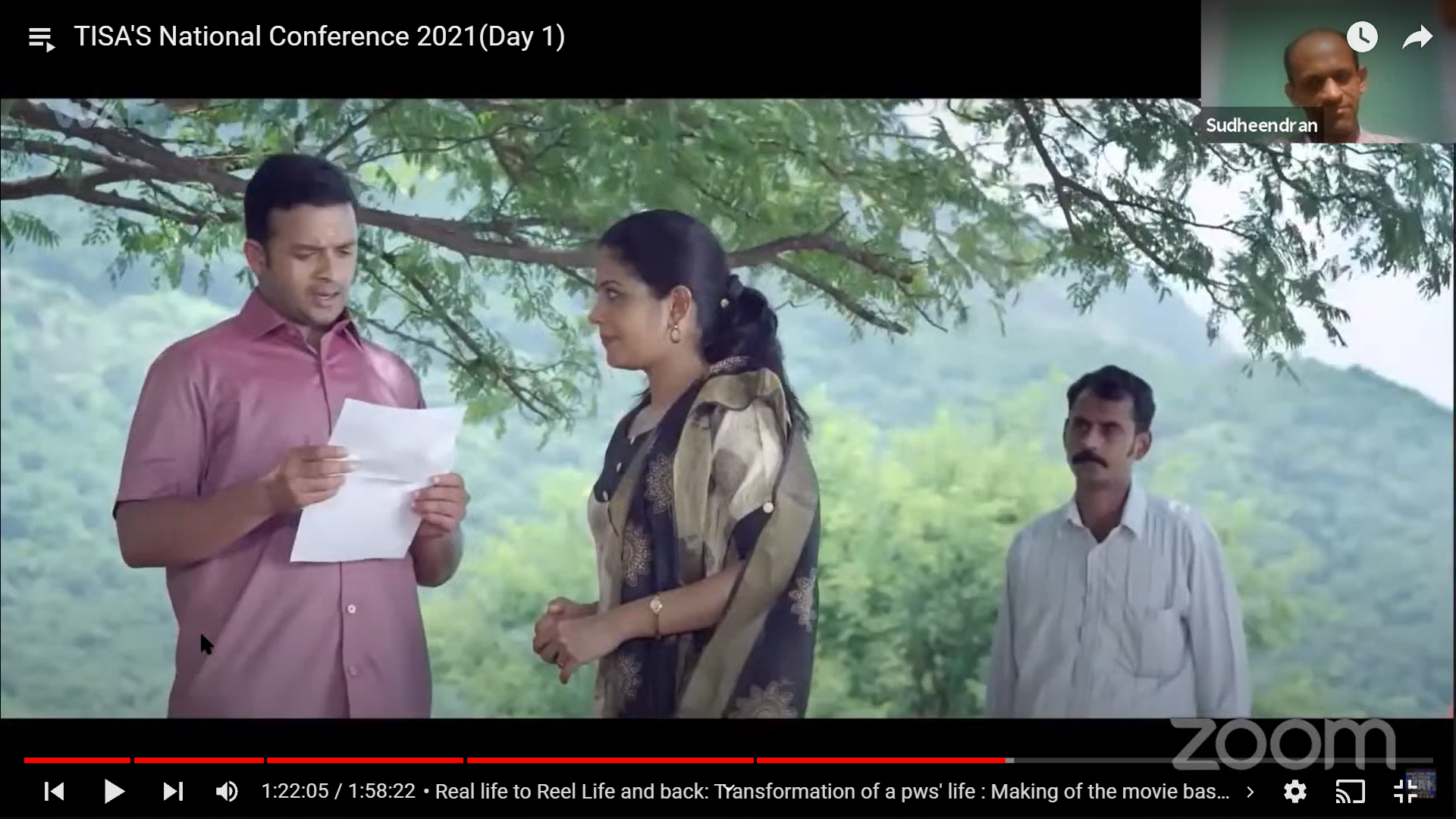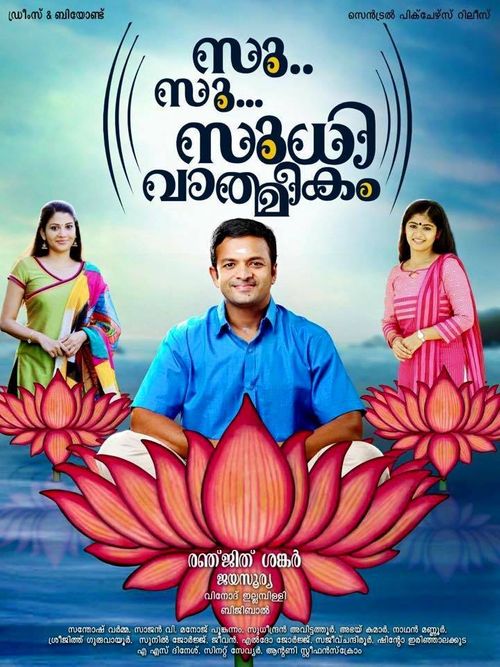 Report prepared by Ms. Shreya Kumar