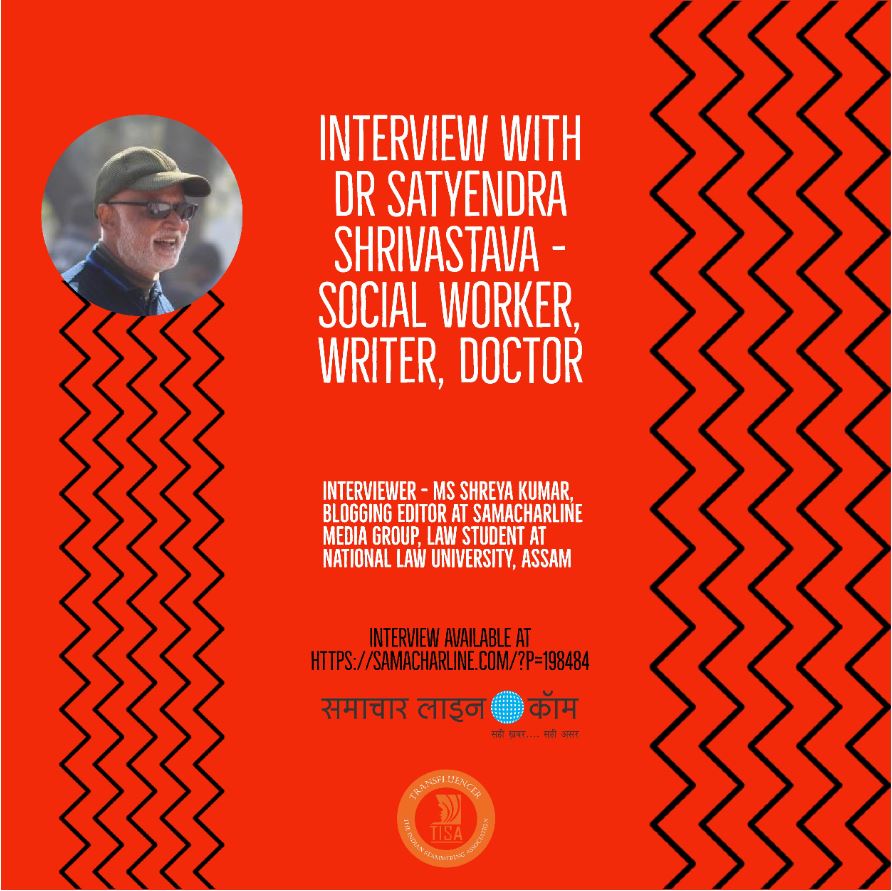 My name is Shreya Kumar, I am the Blogging Editor at Samacharline Media Group. I am also a second-year law student at National Law University, Assam. I had the good fortune of interviewing the founder of TISA, Sachin Sir…and I hope in my own little way I've made people aware of this. The whole interview is available at samacharline.com
Source –
"I have counselled and coached many – and with every success, I have felt closer to my childhood dream: someday, I will overcome my difficulties no matter what."

-Dr Satyendra K Srivastava
Dr Satyendra K Srivastava, fondly known as Sachin Sir, is a Social Worker; Director / Secretary of Society for Motivational Training & Action (SMTA, Chakrata) as well as the founder of The Indian Stammering Association (a self-help group).
He has authored the biography of a tribal girl with a limp who rose to the position of Director- Social Welfare in the State Services. The book is titled, "From The Shadows Of The Mountains: Life & struggles of a Jaunsari woman – Devika Chauhan"
He is an avid trekker and has written an E-Book titled, "The Scroll: An Adventure in Zanskar Himalayas", and these days has developed a new zeal for data science. In a candid and extremely motivational interaction with Shreya Kumar, the social worker shares funny anecdotes, profound life lessons as well as his interests in life- primarily being that of helping others to discover their true potential, by searching within.
1. You're a community health consultant working with the voluntary sector since 1993. Prior to that, after completing your MBBS from Allahabad; you worked as a medical officer at a reputed hospital in Mathura from 1987-1992. What were the reasons which motivated you to become a social worker?
I had worked for a long time in a clinical environment and being, I guess, a little more empathetic than necessary, I was suffering from a lot of stress. Every time a baby died (I was working with newborn babies) I felt horrible. A point came when I realised that I must work with "normal" people and educate them about how not to fall sick; ie. Preventive and promotive health. I got the chance to serve in a social work organisation in Tehri Garhwal in 1993. Since then, I have continued to learn and grow in this vast and interesting field which deals with many subjects- Economics, Anthropology, Public Health, Social Psychology and Public Policy & Governance.
2. Can you give our readers, a brief idea of the role played by Society For Motivational Training & Action (SMTA, Chakrata)?
SMTA was inspired by SWRC (Social Work and Research Centre), Rajasthan. It began working in Chakrata mountains of the then Uttar Pradesh in 1983. SMTA got registered as a society three years later in 1986. Since then, it has implemented many social development projects with – and for the local tribal community, known as Jaunsari. From solar lanterns, smokeless stoves, women's group, Dai (Traditional Birth Attendants) training, Primary education to watershed development and income generation activities, SMTA has initiated and overseen a variety of projects in the region, based on the terrain and the community needs. Community ownership was always built into the process of project implementation.
3. Can you tell us about some successful endeavours of SMTA, how it has played an empowering role in the remote, tribal areas of Dehra Dun?
In the heydays of our Primary education initiative, SMTA ran almost 200+ informal schools (APNA Vidyalay) in the remote villages of JaunsarBawar (part of the Dehradun district, which abuts Himachal Pradesh). In 2001, when Sarva Shiksha Abhiyan began in the state, all the schools were adopted by the state. We still run one school (class 1-5) near Chakrata, as an example of what education should mean at the primary level. Last three decades have seen a consistent rise in literacy in this region, especially that of the girl child. One of our schoolgirls, Reena, participated in the special United Nations Session on Child Rights in 2002.
Many educated young men today are planting fruit orchards in this belt, instead of migrating to cities. Going to schools has become a norm for the children now, instead of cattle grazing. Social change is a slow and complex process but SMTA is happy today that it has played a role, big or small, in it.
4. How is SMTA handling the extra challenges posed in this COVID 19 crisis?
Our primary school is running online classes on Whatsapp. Children are given the task and the homework is evaluated and feedback given by the teacher in the same group.
We have postponed all public meetings and conducted them online or on the phone. We have educated our team and our communities, to promote responsible and logical behaviour in face of COVID-19 pandemic- social distancing and personal hygiene.
5. How can one contribute to this cause and get associated/volunteer with SMTA?
Our primary school near Chakrata has a beautiful campus, with fruit trees and flowers, on a hill. We welcome long term volunteers (3-10 months) so that they can bond with children, teach them some useful skill (academic or otherwise) and make the best use of the place- like finishing their first novel or cultivating an enduring meditational practise for life.  Here is an appeal and the other details:
https://smtachakrata.blogspot.com/2019/02/sabbatical.html
You can also help by bringing your students for a brief interaction with our kids. We also promote rural/ eco-tourism. You can come for a seven-day trip (of course when the lockdown is lifted) and trek to nearby villages, to study local issues or ecological diversity.
6. You're the founding member of The Indian Stammering Association (TISA). Can you give our readers, a brief idea of this organization?
Stammering is a chronic communication problem which has no cure till date. Whatever medical interventions are available, they neither offer long-term relief nor are they affordable by an average Indian. These are the reasons why self-help is a better approach to dealing with stammering. But of course, it is not meant for the faint-hearted. In my early forties, I decided that I must do something for my own stammering.
In people's mind, stammering is shameful –seen almost as a taboo, and therefore everyone spends considerable energy in hiding it. This fuels more shame, isolation and frustration. To break this vicious cycle, I began writing about it in a public blog. Other stammerers (the name was given to people who stammer) soon connected and began to contribute to this blog. Soon, a community emerged which refused to be ashamed. We soon understood that embracing ourselves and working on communication skills was a better option than chasing therapists for the rest of our lives. These ideas became the foundation of a self-help association: The Indian Stammering Association. We run self-help groups, earlier physical in many big towns of India, and now online. We run a free MOOC (Massive Open Online Course) and many video calls every week, to help stammerers understand their issues and make a recovery through self-effort.
7. What was your personal experience in coping with stammering? Today, as you're speaking in this interview; I hear a confident speaker with excellent communicative skills. How did this change occur?
I went through the entire gamut of difficulties faced by stammerers – with roll calls, buying tickets in the bus, presentations, Interviews etc. I discovered that stammering was like a Chinese finger trap: more you fight, worse it becomes. Stammering is a struggle – like fighting our own shadow. You just cannot win. Later as I studied Psychology, I discovered how cognitive distortions of a frightened mind precipitate and sustains this ongoing inner battle for years.
A popular saying is: stammering is not in the mouth; it is in the brain. So was the solution too! Being more open, and accepting of myself as well as others- and meditation- gave me the tools to move forward. Then, I learned some really good techniques from the west, which help us move forward through our difficulties (not around them). While teaching it to other stammerers, I became proficient at communication skills. As a social worker, I had plenty of opportunities to hone my skills.
I will say just this to your readers: The shortest path out of any difficulty is often through it. Don't run away. Face them with grit and intelligence. Don't outsource the task to the "expert". Become your own life long expert.
8. You've written a book titled: From The Shadows Of The Mountains: Life & struggles of a Jaunsari woman – Devika Chauhan. This is a biography, which you've authored. Your insights on it.
This is the story of a girl, who was born in the remote Chakrata hills (Himalayas) and developed a limp as a child due to traditional treatment; She was the first graduate in Jaunsar in the 1950s; She was the first woman from this region to join the State services, a male preserve in sixties and seventies; she rose to become Director, Social Welfare. Her difficulties stem from the fact that she was a woman in men's world, she had a limp – and she came from a small Himalayan tribe known for polyandry – a constant source of misunderstanding and discrimination. Her life also portrays the seismic fault line between work life and married life, of Indian women. Will they be ever allowed to enjoy both- without guilt? What does she and the society need to do, to ensure that? These are some of the questions I have tried to raise in this book. Devika died in 2011 at home. She had served on SMTA board for many years.
9. What are your hobbies?
I love reading- non-fiction mostly, the books which challenge and enrich our thinking. When I can't read, I love to listen to teachers like Eckhart Tolle, Rupert Spira, Raman Maharshi, RamkrishnaParamhamsa, Mooji, Neem Karori Baba etc. I have drawn inspiration and sustenance from diverse sources and will always be grateful to these great souls.
I enjoy writing too, mostly short blog posts or stories. Solo-treks in the Himalayas is another passion of mine since it is like a long silent meditation in beautiful surroundings, a magical experience in short. I have trekked in Zanskar, Garhwal and Tibet.
I have been learning data science too, just for the heck of it! When I am lucky enough to rope in a friend like Abhinav (an IT professional from Banglore), we bike too!
Finally, my big passion is chatting up young people facing various difficulties, like stammering, relationship, career etc. I have counselled and coached many – and with every success, I have felt closer to my childhood dream: someday, I will overcome my difficulties no matter what.
10. What's the best and the worst part about being a social worker? Would you like to share some anecdotes, about the challenges in life which you faced and how you successfully encountered them?
For many of us, social work is a religion in action. It is easy to believe that God exists in human beings. But practising it in day to day life, in so many small ways, is the real challenge. Social work offers a convenient crucible to test your faith, beliefs and intellectual fantasies. On the other extreme, social work can end up becoming a short cut to a little name and fame, and private kingdoms of influence. Another challenge is: sometimes social workers get entrapped in the lure of funding. Funder absolutely and ruthlessly drives the agenda to the detriment of the long-term interests of the community.
Let me share a funny incident from my early days as a social worker in a Himalayan village. One day, since the ANM (Auxiliary Nurse and Midwife) was not available, I decided to conduct a session on Reproductive Health with traditional birth attendants (also known as Dai) in our health centre. Facing these seasoned rural women, I hesitated for a second but soon began with my flashcard, backed by the five years of medical school. As I continued discussing anatomy, physiology and the important role played by a Dai, I noticed an old wizened Dai at back, muttering and making a strange face. I just ignored her and carried on. Soon, I was in the 'flow'- oblivious of everyone and everything.
Half an hour later, I was explaining how careless handling at childbirth, causes infection and closure of Fallopian tubes, which can lead to Secondary Infertility in women. Again, I noticed that the old Dai at the back was muttering something vigorously in the local dialect.
After the session, I spoke to the local worker- a woman, who also was sitting at the back of the class and inquired about the old Dai. I learned something very interesting, which has stayed with me all these years. First, Dai was quite surprised and said: How shameful! How can he talk about these things?
But later when I explained about the Secondary Infertility, she said enthusiastically: Oh, that is so true- don't I know. I know at least two women, who never conceived again after their first child! Now I know why. Yes, he is right of course. He has told me what I never knew…
That day, I realised that Communication is the 'real deal' in almost every situation: a communication which can leap across the gap of age, gender, language, education, biases etc. No matter where Life places us, we must cultivate and value this ability to connect.
11. You're a versatile person. You're a doctor, a social worker, a trekker as well as an author. What's your motto in life, and what advice would you like to share with our readers?
I am 62. Over the years, I have understood that the source of all creativity, resilience and growth lies within us. Exploring this inner space should be a legitimate concern of Humanity. Self-help is based on this very idea. When an alcoholic, who was given up by society and doctors, turned to this inner resource, Alcoholic Anonymous was born, which has transformed so many lives around the world. I have seen similar movements in the social field: people who turned within came up with better and enduring solutions. Therefore, I will suggest a daily routine of being quiet, for just half an hour, and diving within. Call it what you will – Mindfulness, Pranayam, Vipassana or just my appointment with my Self.
Thank you and best wishes to your readers! Stay safe, healthy and positive.
Interviewed by, Shreya Kumar @Samacharline