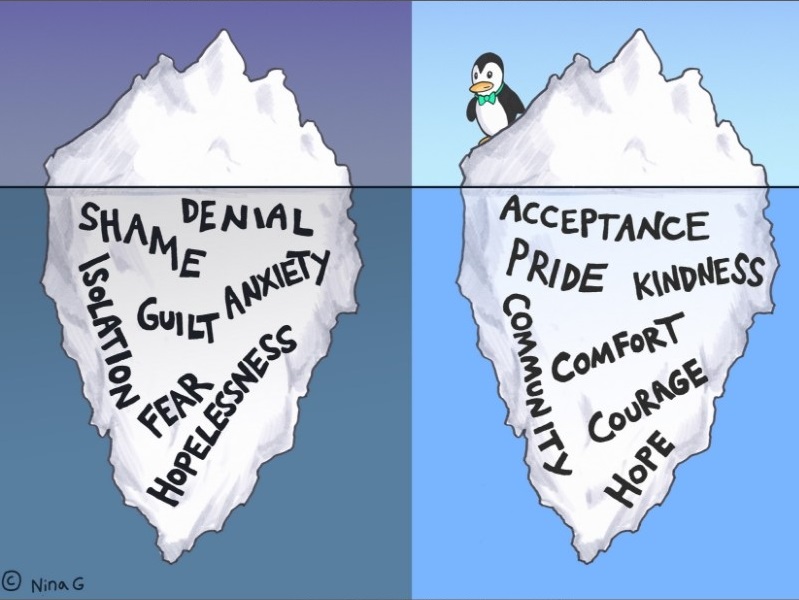 I am so happy that the three days of NC have gone so well, from every perspective. My happiness is doubled, even trebled, when I realise that all this has happened without me hovering all over NC like a compulsive mother hen!
When I left home on 19th Sept. for Leh, there were two predominant emotions in my heart: Worry – Will everything go as per plans? And secondly, Guilt, lots of it – I am leaving everyone in the lurch! I discussed the agenda with Harish on zoom one evening before and told him about my Leh plans guardedly. He assured me and asked me not to worry about anything! (Thank you, Harish!)
Now, I see that THAT is the biggest strength of working in a team and with a team; to use an example from IT industry, a server/computer may be down but INTERNET will still work. And it worked so well! When it comes to team work, I think COMMUNICATION is the single most important factor. How often and through what channels, do we communicate with our colleagues is of great importance. Do you have a team to work with? Do you communicate enough?
I am still going through all the recordings made available by the volunteers on youtube. I am discovering that this NC went beyond my wildest dreams! I saw many of you anchoring sessions so well! I saw the host team logging in well before time and helping audience to log in promptly, while dealing with unwelcome guests (Thank you, Suraj!). I noticed young organisers promptly announcing each session on different platforms on an ongoing basis. And I suspect there are a lot more of such anonymous heroes, men and women, who have worked behind the scenes, to facilitate all this (Thank you, Nikhil!). NC team overall, worked like a well lubricated machine, non-stop for the three days.
It makes me proud and convinced that we, the pws, can do anything, yes ANYTHING, if we make up our mind and if we are willing to work as a team.
Let me thank all the speakers, especially those who had to work against different time zones. All the organisers, anchors, coordinators, promoters, reporters, viewers, streamers, in fact everyone involved in this big community event.
There are a lot of self-help ideas out there, waiting to be explored. Speakers from the west covered some of these: Meditation, Cognitive behavioural therapy (CBT) as a self practice, Role of blogging as an approach to coming out, role of a supportive community etc. The inaugural address by Dr Amit Bajaj set the tone correctly by inspiring us to help ourselves by being more observant, self-motivated and by using some simple tools in day to day life on a long term consistent basis: self disclosure scripts, voluntary stammering etc.
This year we also decided that TISA must not become an "echo-chamber". It should reach out to other groups working on the periphery of the society- just like us, and develop a wider circle of concern and empathy. I just asked a young pws from Uttarakhand for his feedback on the session on Sexuality by Rituparna (Nazariya Foundation). His frank feedback is noteworthy: I have often wondered about LGBTQ people. I once even googled about them. But it was my first time to listen to a lesbian, who communicated so well and presented their perspective so powerfully…
I realise that this dialogue between the young pws and the big rich world out there, must continue for a long time to benefit our community. Stammering disconnects you with the world. National Conference connects you back.  This NC has set a benchmark; it has offered the "proof of the idea" – that it can be done efficiently and on a variety of themes and across the globe. The community now must find/ create many more such occasions for dialogue and mutual learning.
I would love to quote a young pws who cryptically responded to certain other griping members in a TISA forum recently: Bhag lo ya bhag lo! Message is clear: Either participate or leave! Jaspreet (Jassi) from Chandigarh also said something similar: the organisers in an NC benefit even more than the audience! Why? Because they are stepping out of their comfort zone, learning new skills as a team and going out on a limb.
So why wait? Begin organising and participating in TISA activities: online groups, offline meetings, self help group activities, Mooc, online interviews, hangouts, presentations, write to the blog …
And yes, if you want to anchor TISA events, read widely, learn more, travel, volunteer, attend TOPG, become a well rounded and a very knowledgeable person. 'Anchor' must have weight and depth, to be effective. You have one year to get ready!
Lastly, the personal lesson I have learned from this NC: Be bold and ambitious!
A whole life can be wasted, before you know, in 'playing safe', in 'playing to gallery' or in 'pleasing others'. In being bold we run the risk of falling flat on our face. But that has happened to stammerers many times and therefore should not frighten us! When we are bold, we are in tune with an indomitable inner power, given to us along with our stammering and other characteristics. The way we have explored our stammering in TISA, let us also explore this inner potential too, to create, connect, challenge and overcome. Therefore our prayer with Gurudev is:
Where the mind is without fear and the head is held high;

Where knowledge is free;

Where the world has not been broken up into fragments by narrow domestic walls;

Where words come out from the depth of truth;

Where tireless striving stretches its arms towards perfection;

Where the clear stream of reason has not lost its way into the dreary desert sand of dead habit;

Where the mind is led forward by thee into ever-widening thought and action

Into that heaven of freedom, my Father, let my country awake.
With gratitude and prayers for everything we do as a community.