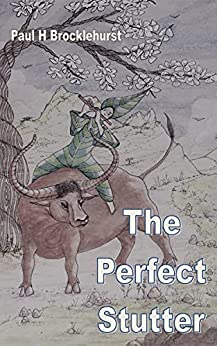 In seventies England, a young man who stammered and dropped out of university for that reason, writes a manuscript and posts it to his father. He just wanted to explain his strange decisions to his 'uncomprehending' father. Years later, he returns home on his father's death, having earned university degrees in Psycholinguistics, Speech Therapy and Psychology – and also having cracked the jigsaw puzzle of his own stammering! 
Contemplating his loss, he discovers his old manuscript lying in a dusty attic, with his father's notes on the margin of the first few chapters… 
Honoring his Zen training, he compiles the private manuscript into a public document: The Perfect Stutter!
Astride the bull, I reach home. I am serene. The bull too can rest. The dawn has come. In blissful repose, Within my thatched dwelling I have abandoned the whip and rope.
(10 BULLS – KAKUAN : A zen story)
---
The Perfect Stutter : Review
This engaging and illuminating book is in two parts. First – an autobiography of the author, exploring his experiences centering on stuttering and insights derived, as he evolves into a "conscious" adult, on a mission to make sense of his difficulties and suffering – both from an individual perspective and also from a global perspective: why is suffering there? To what great purpose? 
Second part deals with his understanding of what causes stammering in the first place and what makes it persist for years, through cycles of remission and relapse. As a teacher and serious researcher in the area of Psycholinguistics he, not only, reviews all the relevant literature of the past century, but also questions some of the established wisdom and offers startling new insights. Does any of this stem from his diverse background and interest, from Chinese Medicine, Acupuncture, Zen, Brahma Kumaris, Psychology, Organic food to cooperatives and theater? We must conclude that he does not let any life experience go to waste, unaccounted for. As a good researcher, he considers, questions and revisits all his experiences as valid data to reach useful conclusions. 
You would easily fall in love with the first part, since it is a very personal  story of human relationships, suffering, letting go and the final resolution – a happy ending – told with great openness and compassion. If you are into Zen and mindfulness etc., and often wonder what "practicing presence" could look like in day to day life – the first part will give you a glimpse, even though Dr Paul makes no such claim! He just delved into these oriental ideas, in his personal search for meaning and sustenance at that time. 
An important area for us stammerers is relationships: how to negotiate those moments when both speaking and silence is fraught with danger? How to nurture a spouse, children? How to deal with communication challenges at work front? Dr Paul shares his own debacles with the honesty of a child and also how these events shaped his sensibilities and outlook on life as a person who stammers. Poignant story of his divorce and reconnecting with his children later in life, is an important chapter, which can teach something profound to all of us, whether we stammer or not. 
Part two will require some facility with language and understanding of what good research is all about, including how it helps us to first hypothesise, then come up with a robust design to test it, and finally draw conclusions about the reality out there. Yet, googling and re-reading a couple of times may help anyone to understand all the valuable insights derived from the massive research. Dr Paul has used an accessible language, often interpreted the research findings for the reader and lucidly captured the implications of the new findings, for stuttering research and interventions over the years. If you have often wondered about the variable and mysterious nature of your own stammering, you may want to stay with part two for a few months, browsing it again and discussing it in your self help groups. 
For me personally, his exposition of the development, around the age of two, of the ability to use inner speech ('the little voice in the head') through the inhibition of external speech as a first step towards stuttering and the subsequent neurological processes of the variable release threshold mechanism, which prevents some words from being spoken despite being crystal clear in our consciousness – these, as the primary issues in stammering, are great insights. He helps us to understand that, stammering, like Diabetes and High Blood Pressure, most likely consists of more than one subset: symptomatically similar but with differing mechanisms. 
At Rs 399 (Kindle edition) at Amazon (India), it is not just a good investment into your self-help initiative, it could also be a nice gift for someone you know. Not to forget the professional therapists, who value evidence based therapeutic ideas – the book could teach them a lot. Beyond stammering circles, this book could be very useful for people interested in speech and language development in children, the intricacy of Communication/ dialogue and mindfulness/ Zen etc.
It is a perfect book about the perfect stutter! All we can recommend for future editions is, please consider adding some photographs to part one: family, friends, children and childhood memories. Many pws will love to get the personal feel.
Reviewed by: Dr Satyendra Srivastava
Founder, The Indian Stammering Association
10th July 2021, Chakrata, Dehradun