TISA Bangalore shg-meet: 02-07-2023.
The following is the report from the self-help meeting in Bangalore on 2nd July. The report is from Tapan, one of the participants. These self-help meetings happened across India- Delhi, Jaipur, Mumbai, etc. More information can be found on the TISA website.
We PWS often talk about breaking out of our comfort zone and performing. But what if you break it out and find another comfort zone of Sunday Cubbon Park morning with a relaxed atmosphere and happy people around?
Moreover, if you get some like-minded people having the same guilt and shame as yours, then nothing like it. You can pour your heart out, stand and deliver. The speech organs will be tremendously happy to get some nutrition. Your thoughts and body language start getting proper shape and as a by-product, your speech will get better.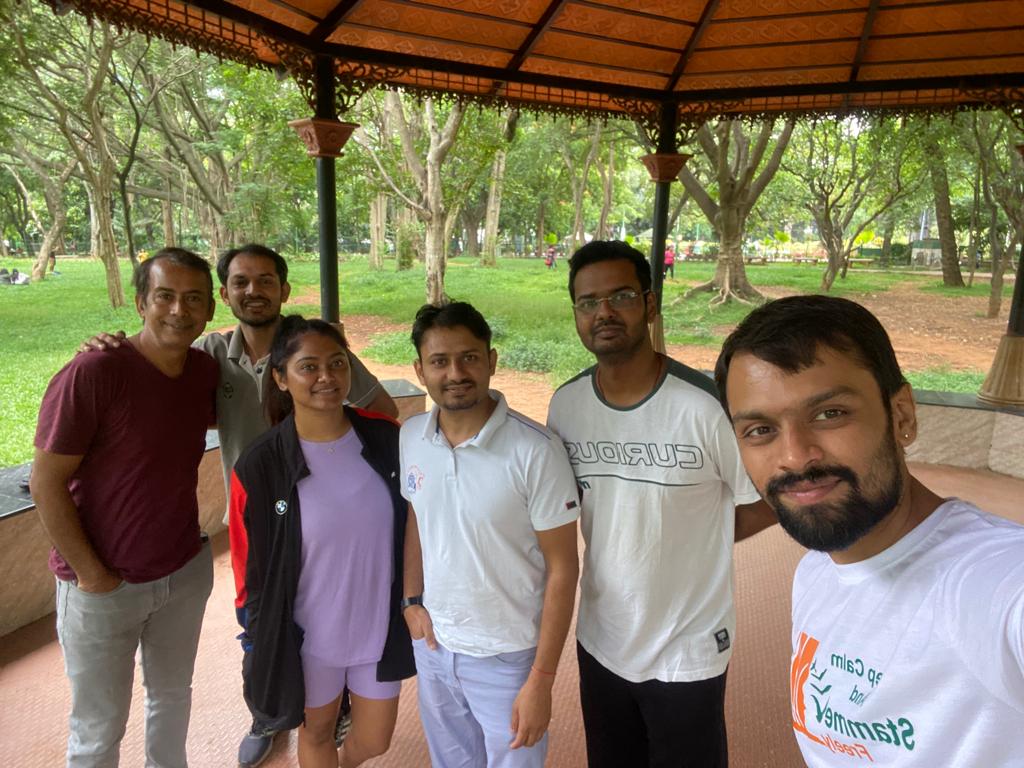 Dipin started with voluntary stuttering and cancellation techniques. Describe them very well. At the same time, 4 girls were present at the big huts and Dipin interacted with them beautifully with voluntary stammering. It takes huge courage to do that in front of strangers. Clap for Dipin. Next, I told about the benefits of holding the shg meeting in a structured way to get more benefits out of it. As a regular attendee, Labani being the host agreed to that.
Siddharth talked about the benefits of the TISA association which make him calm and composed. Asim confessed his habits of overthinking and panicking but took an oath to work on it. Finally, Dr. Arjun took center stage and enlightened us about meditation. You can not do meditation, you can only be at a meditative stage. Due to some bad experiences with speech, the mind and body leave negative impressions over the years. We are just exhibiting it the way we talk. We can reverse the process by just identifying it and working on it by creating some good impressions.
So meditation makes you aware of it. Unknowingly we all drive our cars in auto gear mode with less control in steering which leaves a lot of scar marks in the car. Meditation puts the gear in manual mode and full control in steering, resulting in bright and shiny cars which reach their destination faster.
We conclude the meeting and hope for a larger participation in the coming weeks. Thank you, it was a happy Sunday!
-A report by Tapan
Do you stammer or do you know anybody who does? and do you want to join such groups?
You can join by reaching out to us on any of the below channels:
TISA-Bangalore Instagram: https://www.instagram.com/tisabangalore/
Email: tisabangalore0@gmail.com
Contact: Tapan Samantha: +91 99001 62098