TISA Bangalore Shg meeting: 30/07/23.
Note: The following is the report from the self-help meeting in Bangalore on 30th July. The report is from Promod, one of the participants. These self-help meetings happened across India- Delhi, Jaipur, Mumbai, etc. More information can be found on the TISA website.
Attendees: Sudhanshu, Vivek, Dr. Arjun, Keerthan, Labani, Akshay, Nishant, Tapan, Amarnath, Pramod, Uttam, Angad, and Rahul Singh.
Special Attendees: Supriya, Prasanna, and Silver Surfers.
While I scribble the minutes now, the childlike delight I experienced in the meeting has been following up. I would like to share the anecdote that, "what starts well ends well".  It was 9: 00 AM When I reached Cubbon Park, some of our comrades were already assembled and in full spirits.
Right in front of us, were a bunch of joyful senior folks soaking in the good company of each other and enumerating so much joy around. Labani broke the ice with them, while Tapan da followed up by extending the invitation to us folks seated across. Within no time a connection was established and conversations poured in from both sides. Thus took place the first stranger talk of the day. One of the fine ladies from that group found her fraternity in Dr Arun. A doctor, a writer, a dancer, an ever-charming gentleman.. this senior group had so many to keep us in awe.
A very detailed round of introduction took place and this group participated in that too by being the cheerful audience they were. Compassion is the word that strikes my mind. The compassion they showed towards the honest effort that each one of us put in and the integrity with which we have shown up to do something about this cause.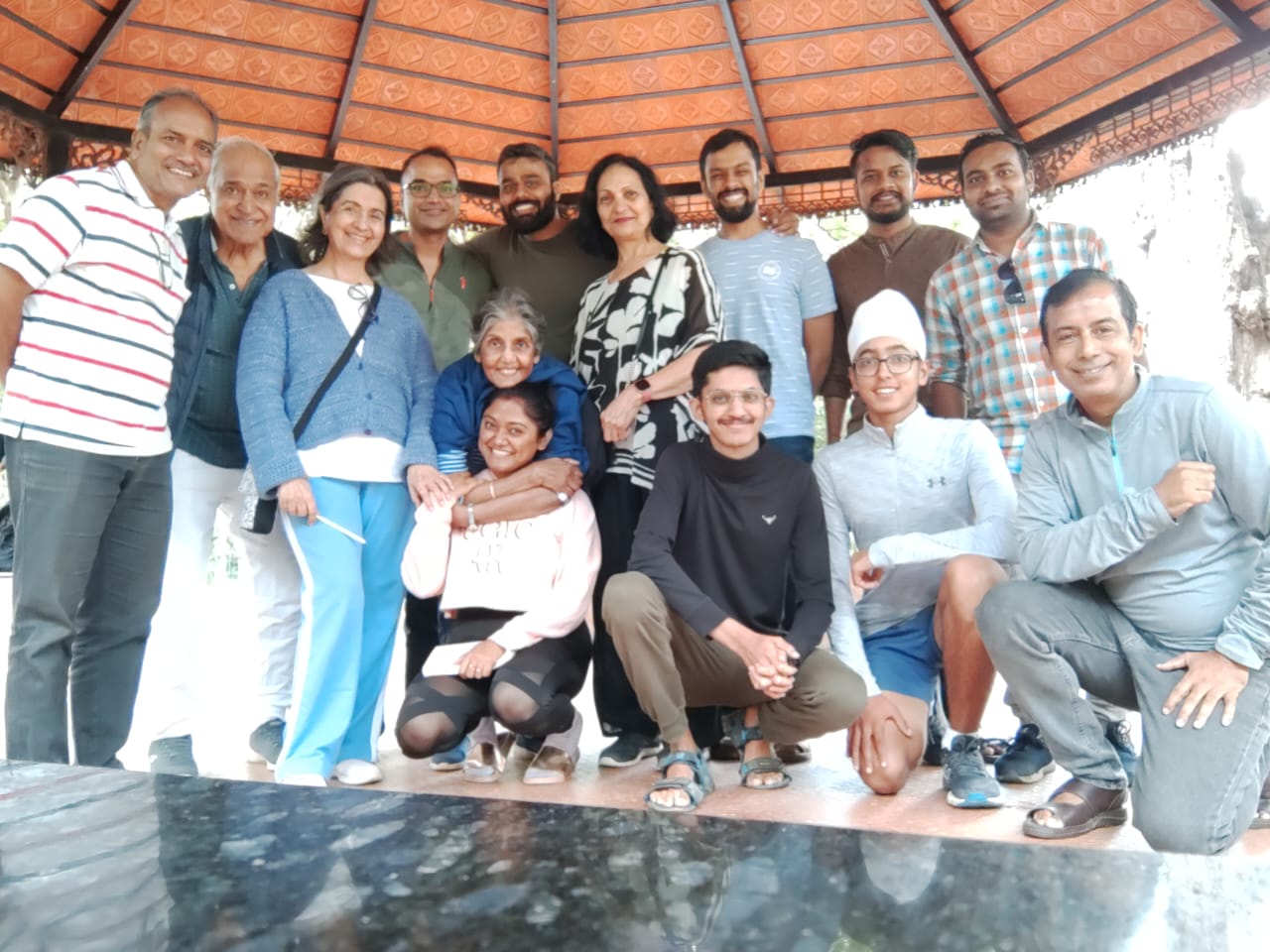 As the clock ticked 10:15 we were greeted by a fine gentleman, Mr Prasanna, passing by whose inquisitiveness upon witnessing this gathering made him stop, ask, and thereby find his place seated amongst us for the next two hours. This jolly man shared his experience being in Dubai and now returning to his roots in Bengaluru and getting reconnected to the heritage here.
Thus happened the second stranger talk and it went a step further to only make this stranger a buddy.
As minutes ticked we had a young lady Ms Supriya who is an SLP in the making, who had to travel all the way from Mysuru to witness our SHG and be part of the day's activities. Efforts from her end were to gain insight into the all-around effects of stutter and make this ready to go into her research work. Thereby also planning to take this concept of SHG within the institution where she is pursuing her studies and introduce this as an alternate platform for support and progress.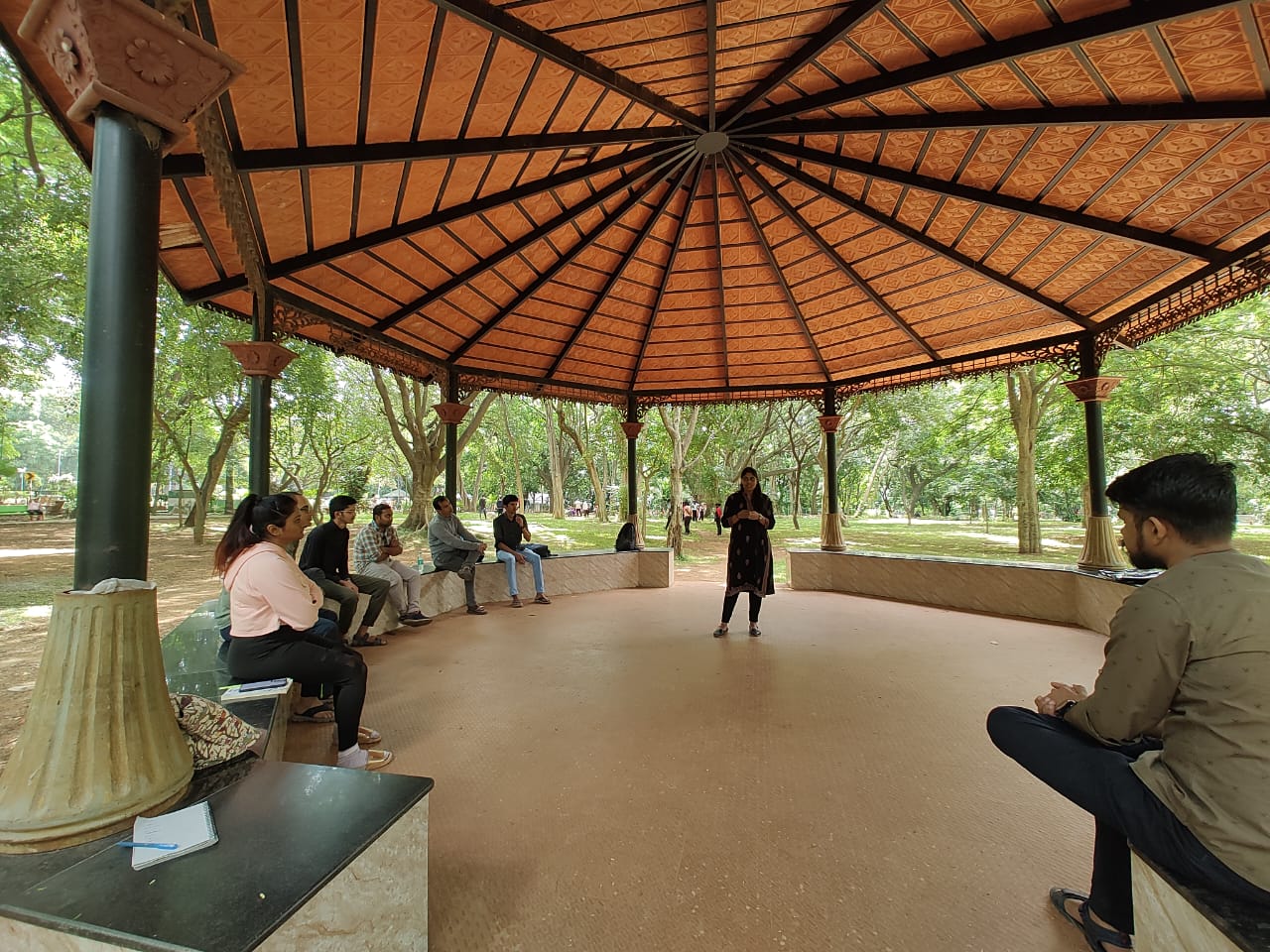 Further to this around 11.00 AM we did a small activity that focussed on bringing out the most noble of the qualities that other people observe in us and how stammering as a reality has shaped us to it. Qualities such as acceptance, bravery, tolerance to diversity, and being receptive were some traits that we as individuals have come in conscious touch about ourselves. Somewhere this stammering journey has also humbled us to be something better than the rest of the 'normal' crowd.
Keerthan, Vivek, and Tapan spoke about how certain strong qualities in them shaped up and are receptive because of having that sensitivity towards other issues. Uttam spoke about his journey and the struggle he had which he is grateful for the strength it provided. Akshay found so much relief when he attended the NC and witnessed that there were hundreds in front of his eyes who were sailing in the same boat. Now he absolutely likes going out there in public and interacting.
Post this Ms. Supriya had some interesting activities that were neatly planned out to capture our stutter in a quantifiable way possible.
Ideas poured, discussions took place, notes were being exchanged and each of us was engaged in something stimulating and finally bringing the SHG to an end. Clocked ticked close to 12 and as we were about to wrap up, a fate so much fell in love with us again and this time came in the form of a young college boy from another group nearby who gleamed towards us to get more information on what we were up to since he was tasked to do a dare by his team! Happy vibes are indeed contagious…I tagged along with him to his group where at first I was met with some shy, curious, nervous smiles.
All I had to do there was say, "Hey pa pa pa people ta ta ta today has been amazing isn't it, Aren't we all smiling" and over there recreated a glimpse of our SHG. You just cannot escape the gleefulness on the innocent faces when met with something intriguing. The whole bunch there was in rapt attention and couldn't hold back clapping as I thanked them and walked back to my comrades.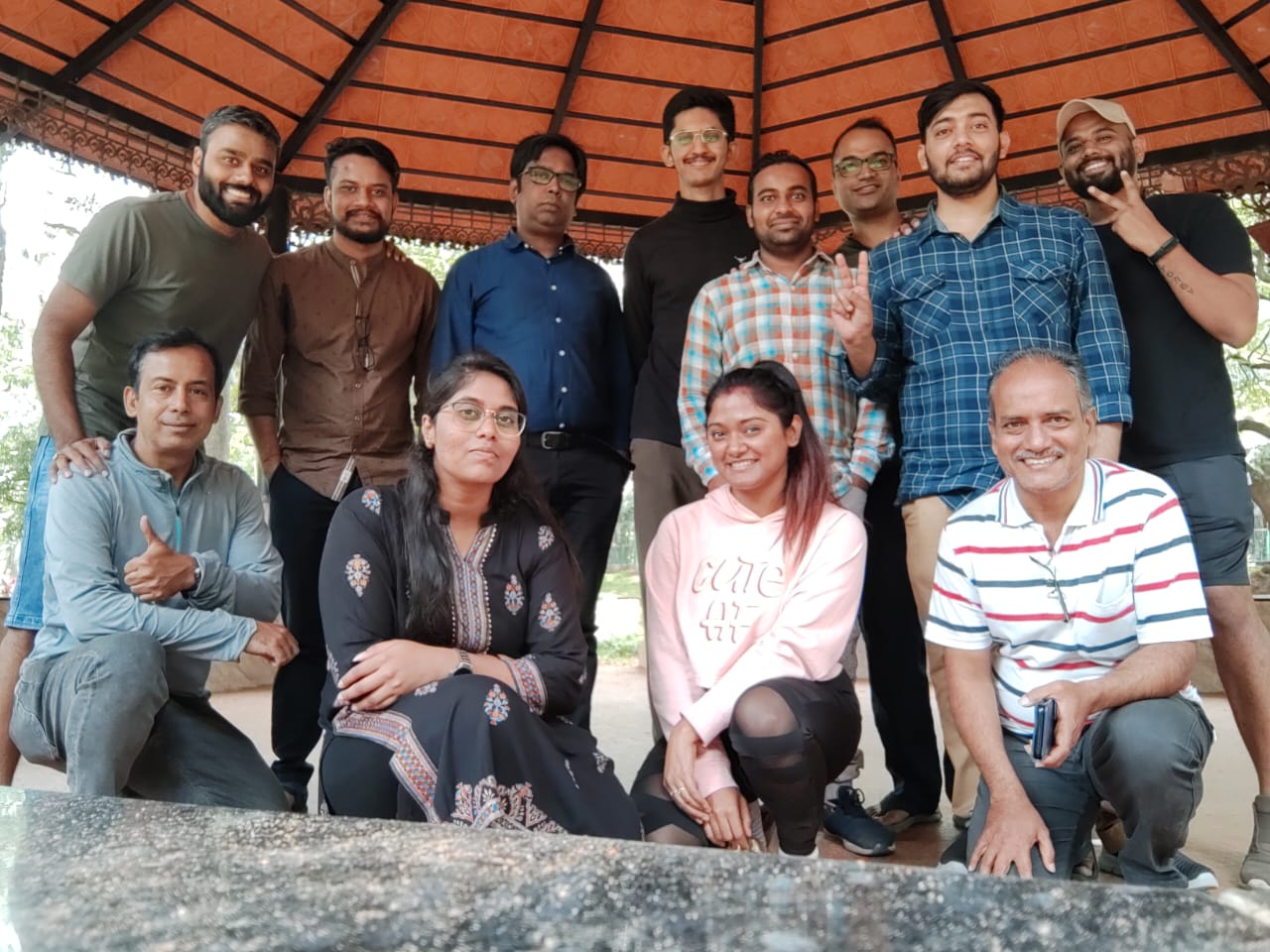 While I was riding back home, after a long while I was rejoicing and amused at the turn of events. Just like water, goodness flows to find its way.
~A report by Pramod
Do you stammer or do you know anybody who does? and do you want to join such groups?
You can join by reaching out to us on any of the below channels:
TISA-Bangalore Instagram: https://www.instagram.com/tisabangalore/
Email: tisabangalore0@gmail.com
Contact: Tapan Samantha: +91 99001 62098