TISA Bangalore Shg meeting: 23/07/23.
Note: The following is the report from the self-help meeting in Bangalore on 23rd July. The report is from Arjun, one of the participants. These self-help meetings happened across India- Delhi, Jaipur, Mumbai, etc. More information can be found on the TISA website.Joining details are at the end.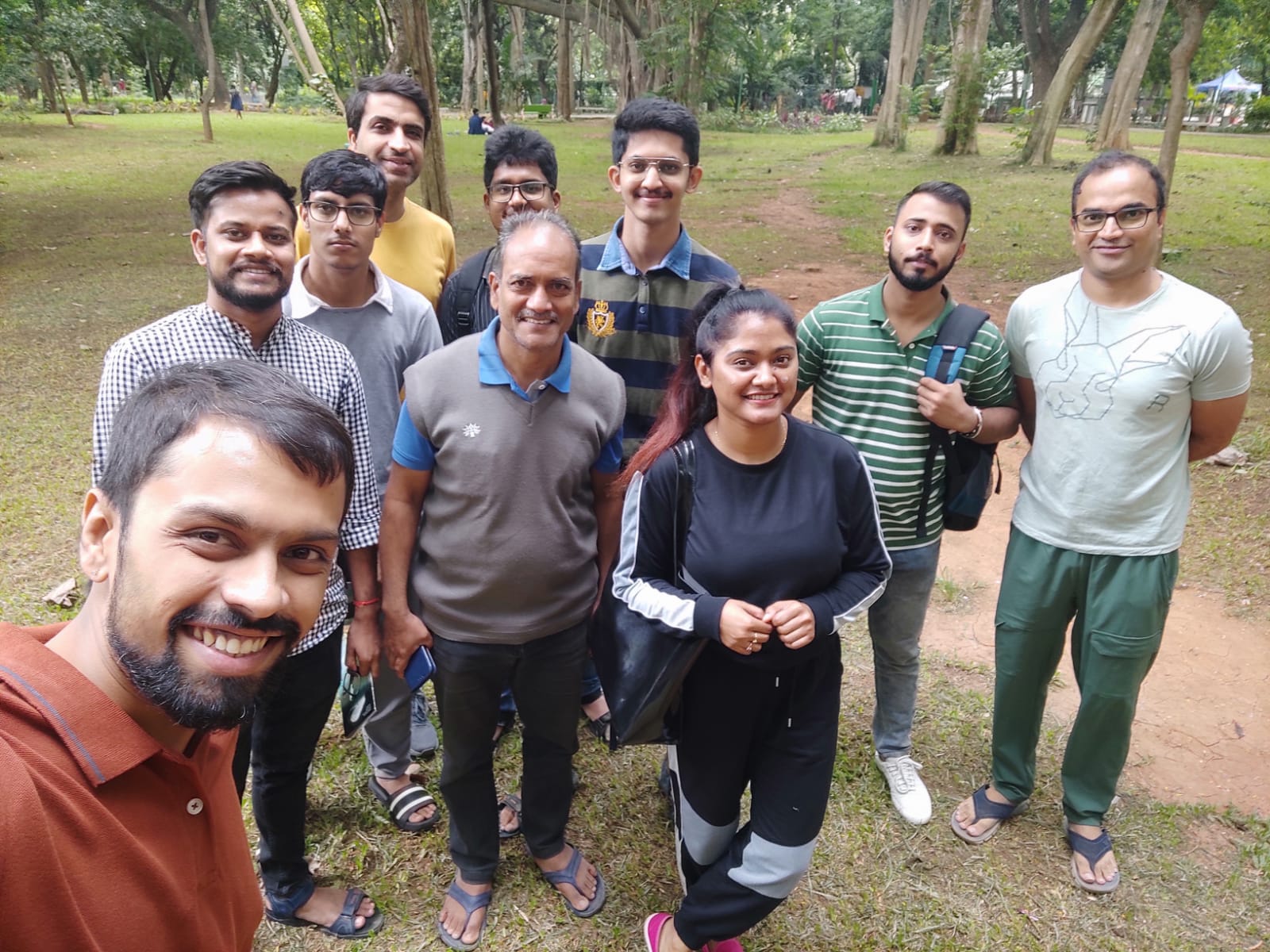 It was a beautiful chilly Sunday morning. I reached Cubbon Park by 9:20. Naveen, Sudhanshu, Vinayak, Vivek, and Nirbhay had already reached. I was just in time to hear Naveen singing a song- a Punjabi number!!
He was looking so relaxed and at ease while singing- was really good to see. Sure it's just a matter of time before he is just as much at ease while speaking as well.
Next up, Vivek spoke. He had hit roadblocks with respect to his career. But as always, SHG has always been there for any issue of any of its members. Dinesh and Amarnath have been guiding Vivek over the past couple of weeks. He looked much more at ease this week. He spoke about how he gets blocks at the beginning of a conversation. Well, that's a universal problem with all PWS. Everyone gave their suggestions, like trying to use techniques, visualization before a conversation, and most importantly not taking a back step. Even if there is a block, it's better to go through a block than to successfully avoid it!!!
The rest of the gang kept coming in gradually. Laboni spoke about her experience this week, where after enjoying her pasta at a cafe, she insisted on speaking to the chef and complimenting him. She had this urge to practice and do stranger talk right there. She is thoroughly enjoying her speech!!
Naman spoke about his work. And how, after sufficient deliberation, he is planning to take a sabbatical. It was refreshing to hear him talk about this.
Vinayak was joyful as always. He spoke about how he is doing an online internship now. He is able to talk to his seniors and other colleagues without fear. He participates in all the meetings. He is in his Zone now!!
Sudhanshu spoke about work pressure. He is planning to take a few days off from everything and everyone, and just be by himself, meditating. What better than to spend time just by yourself, to press the reset button and start afresh? Again, very refreshing thought shared by Sudhanshu.
We had 2 debutants: Nishant and nirbhay.
Nirbhay spoke about his college presentations and about campus interviews. We all chipped in with a few suggestions. The main things are, to make use of the TISA platform- attend SHG regularly, practice presentations in SHG, use the presentation event as a medium of practice, and read Apna Haath Jagannath.
Nishant spoke about what he wants from Tisa- to overcome the fear of stammering. That's what this is all About for all of us. To cure the stammering mindset and modify our stuttering to make it more easy.
Amarnath shared an interesting experience. He was conducting interviews in his office when he realized one of the people he was interviewing had a stammer. But the interviewee was still in denial I guess, he didn't admit that he stammers. But Amarnath made it a point to disclose his own stammering and also mentioned Tisa.
I then spoke. I wanted to know, what each one's roadmap is, and what are their actions to become better communicators. The major consensus was to go out and talk more. Vinayak said something interesting- that he wants to become more aware of the fact that he is the one who is creating that stammer, so he is the one who can stop doing whatever he is doing in the moment of stammer, and in turn, communicate more easily.
I spoke about how I want to address the part of the iceberg beneath the surface- through meditation, and acceptance (by talking about stammering and disclosing about my stutter whenever possible). Since 95% of stammering is due to the thoughts that we generate and in turn anticipate stammering, meditation is a great tool to distance ourselves from the mind and be free of Thought!
After these wonderful discussions, we did stranger talk. And then parted ways, only to meet again next Sunday!
What better venue than cubbon park!!
~A report from Arjun
Do you stammer or do you know anybody who does? and do you want to join such groups?
You can join by reaching out to us on any of the below channels:
TISA-Bangalore Instagram: https://www.instagram.com/tisabangalore/
Email: tisabangalore0@gmail.com
Contact: Tapan Samantha: +91 99001 62098