It was a normal day, I was enjoying my time in the swimming pool with my friends playing with a beach ball. The ball bounded out of the pool after hitting my neck, I got out of the pool to get it. After a few steps, I felt my leg slipping, and I do not remember anything after it.
Have you ever played Call of Duty, the sound you hear when your game character is critically injured, not able to see or analyse the situation around you, I was in the same situation! 
I was able to hear my friends calling out my name as if someone was increasing the volume button every passing second, but I felt it hard to gather my energy to reply to them. After a few failed attempts, I finally uttered a few words….'I am Fine'. They laid me on a bench kept near the swimming pool, and I was unconscious again for a few minutes.
After waking up, I went directly to my room and slept for a few hours. My roommates were back from the pool and I started asking questions about the accident. They said I fell directly on my head, the sound of the impact was huge and it echoed in the swimming pool, and after the impact I was unconscious.
I didn't feel anything, except for a slight headache, but the trouble started the same night. Around 10 PM, the pain became more intense and I immediately went to bed. 
The next morning, I woke up late around 10 AM, had breakfast, played cricket with my friends, and then had lunch before going back to sleep. After waking up, I felt something wasn't quite right with my head, so that evening I scheduled an appointment with a neurosurgeon in Nagpur. 
They advised me to undergo a few tests like a CT scan, ECG and X-ray, after receiving the scan, I showed it to a doctor in the same hospital, she seemed a bit worried after examing my reports and went directly to her senior's cabin who was also the head surgeon, Dr. Pakhmode
Dr. Pakhmode called me inside his cabin and started asking questions like did I had a memory lapse after the impact, which I had and a few weird questions like do I remember my name, designation etc….I could not understand why were they asking such weird questions to me.
Finally, they broke the silence by telling me that the reports indicated that the impact was a powerful one which resulted in a brain injury, in the medical language they called it Cerebral Edema which means brain swelling.
I was admitted to the hospital and my treatment began the same day. Whenever you feel unlucky, simply visit an OPD or general ward of a neurosurgeon. You will realize the true meaning of luck and will be thankful for your good health.
I was kept in the general ward because there were no rooms available in the hospital, there I met a woman just adjacent to my bed, she had trouble sleeping for more than 10 years. One night she had terrible pain in her head, she was rushed to the same hospital and diagnosed with the second stage of tumour. And she was sleeping straight for more than 15 days.
My bed was just to the left end of the entrance of the general ward, the guy at the right end of the entrance had a very unique problem where his spinal cord was very weak, I can't even imagine how he manages his day-to-day activities. On the bed adjacent to this man, there was a girl hardly around 3-4 years old, she was shifted to the general ward from I.C.U after her tumour was removed from her head. She used to cry in pain, maybe doctors cannot give her strong medicines at such a young age, and it makes you wonder if the mighty God witnessing the pain of this little one. And two of the patients were in a coma for at least 15 days.
I was given medicines by the tubes inserted into my veins, and the medicines were very strong and fI elt like they were piercing my veins as they travelled through it. The best part was that the nurses had empathy, they would caress my elbow to ease the pain, and I would fall asleep within a few minutes. 
After 3 days, I was discharged from the hospital. Doctors told me that it will take 2 to 3  months for my brain to recover from the damage and advised me to 25 days of strict bed rest with minimal screen time along and 2 months of medication. The tablets made me feel sleepy and those 25 days just went by sleeping all day.
 If you ask any of my family members to tell you something about me, they will tell you that I am one of the most active man they have ever seen. You will never see me sitting idle, after my office, I would be doing activities like working on my skills, watching documentaries, volunteering for TISA, and visiting places of historic significance in Nagpur but you will never see me idle. 
We all have heard horror stories from corporates during the pandemic, where the employees were thrown out of the company without prior notice. Even I was afraid that due to my health my work will be affected and I would be a liability for my company, and I might lose my job. But the opposite happened, my director was more concerned for my health than my pending work. My Colleagues expressed my concern about me losing my job to our HR and our director said the following words to me – "The company will be here, we all will work here and you(I) will be joining us once you are fit enough to resume your duties"
Due to this injury, I feel dizziness, have a vision problem and a lot of headache. I have resumed my work but still facing many challenges like headaches & vision problems, I am most concerned about my vision problem. When you try to click a picture from your mobile camera, many times you focus on a specific point, the image focuses on it for a few seconds and again gets blurred. It is a bit similar to what I go through with this vision problem, and I feel very irritated while looking at mobile or laptop screen. Doctors have said that it will go away once the brain is fit enough, and coming back to the most concerning part, what if it does not go away even after my brain recovers from the injury??? Many people find evening the part of the day, but for me, they are the worst because I feel tired, irritated by the vision problem and have a constant headache and now I am diagnosed with migraine. 
I have always been a rebel by nature, always trying to fight back to reach my goals. After my discharge from the hospital, I used to ask myself Should I fight this storm or Should I let this storm calm down?
If you google what are the regrets of billionaires, most of the time they will say that not focusing on their health was their biggest regret. Talking about a few, Late Rakesh Jhunjhunwala, the Indian Business Magnate, said that his worst investment was his health. We all know Steve Jobs, but do you know that many years before his death he was diagnosed with pancreatic cancer? And doctors said that it can be cured soon if he would be concerned about his health, and days before his death, not looking after his health was his biggest regret. 
Before this accident, I was able to stay active the entire day even with just 4 hours of sleep and now even 11 hours of sleep does not feel enough, which is a clear indication that my brain needs more rest. So I have decided to let this storm calm down and then I will strike hard once I am fit. 
Back in 1665, when the Maratha forces looted the port city Surat under the leadership of Chhatrapati Shivaji Maharaj, the Mugal emperor Aurangzeb send his best general Mirza Raje Jai Singh with a strong army of 1,00,000 men to teach Chhatrapati Shivaji Maharaj a lesson he will never forget. Chhatrapati Shivaji Maharaj was facing many losses so he decided to surrender, and the Treaty of Purandar was signed. A total of 27 strategically important forts were hanged over to Mughals along with all the treasury in the Maratha kingdom and his son Yuvraj Sambhaji was made a general in the Mughal army.
Chhatrapati Shivaji Maharaj decided to let the storm calm down, recover from such a huge loss and then he again worked on his dream for Swarajya (self-rule) from scratch and till his death, he had captured 144 strategically important forts and the Maratha army was unstoppable. 
All of you reading this blog, a few of you people might be engineers, doctors, artists, entrepreneurs and from various backgrounds, even you have bounced back many times, so have I, first I used to hide my stammering from the world because of which I was always afraid and just a few months ago I gave my first international presentation. This time my battle is completely different, but I am sure that as always I will figure out a way to Rise Again.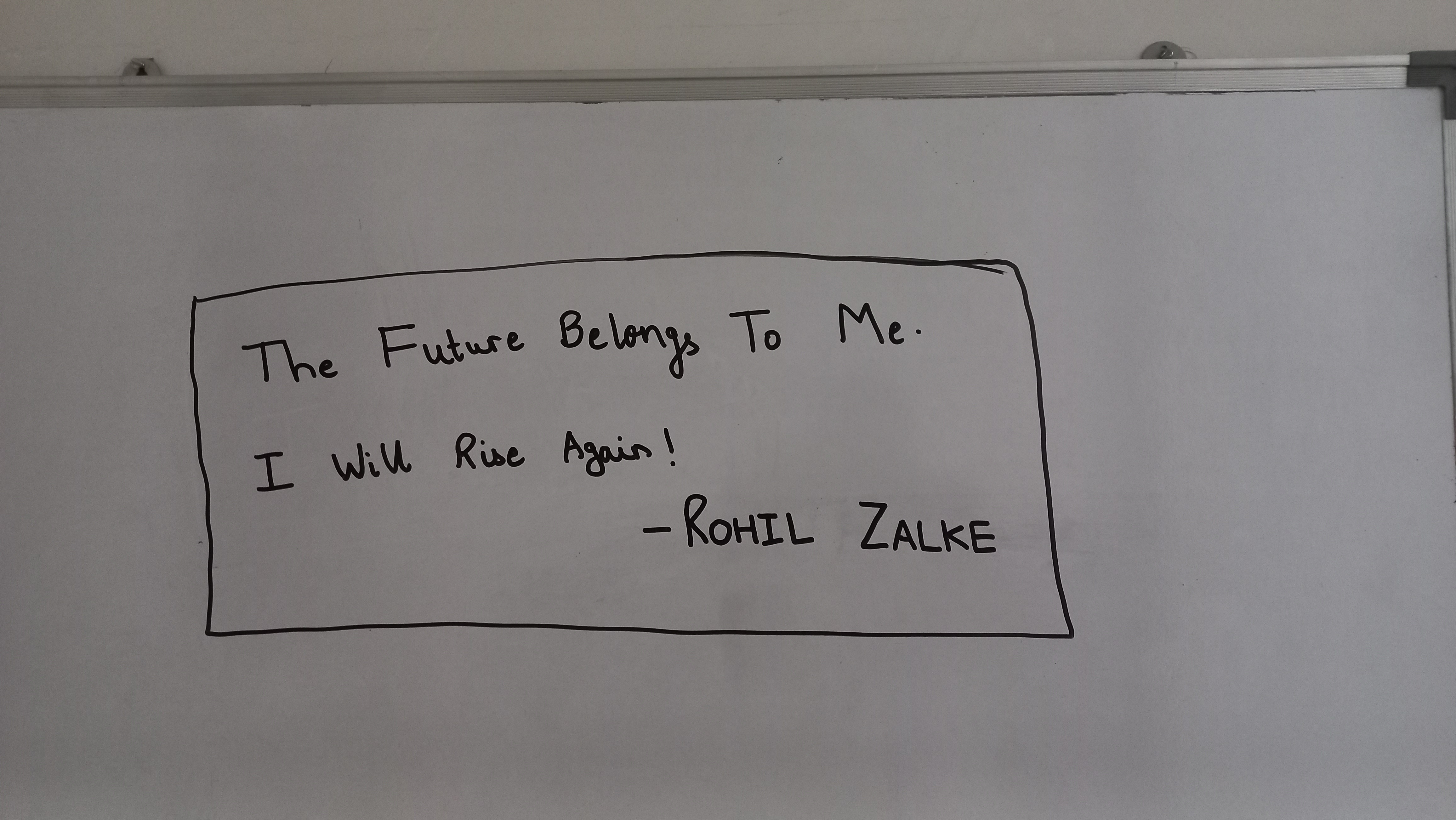 सफलता के दमन मैं जी भर कर सोना चाहता हूँ, 

(I want to sleep for the rest of my life in the suppression of success,)

जोह आज तक नाह कर सका वह सब करना चाहता हूँ,

(It is my goal to do all that I haven't been able to do so far,)

यह न समझो, असफलता का तूफ़ान गिरा देगा मुझे,

(You should not think that this storm of failure will bring me down,)

गिर भी गया तोह क्या, फीर से उठना जनता हु।  

(Even if I fail, The knowledge of how to bounce back  again is ingrained in me,.)
                        – अमूल शर्मा